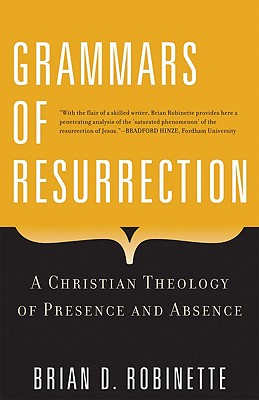 Grammars of Resurrection: A Christian Theology of Presence and Absence (Paperback)
A Christian Theology of Presence and Absence
Crossroad Publishing Company, 9780824525637, 444pp.
Publication Date: November 1, 2009
Description
This comprehensive study situates Jesus' resurrection at the center of theological reflection and explores its implications for Christian imagination, discourse, and practice. Drawing upon broad array of theological and philosophical resources, it examines issues related to textual analysis, history, memory, embodiment, violence, forgiveness, aesthetics, and spirituality.
About the Author
Brian D. Robinette is associate professor in the Department of Theological Studies at Saint Louis University.
Praise For Grammars of Resurrection: A Christian Theology of Presence and Absence…
"Offers us a genuinely rich and dense account of Christ's Resurrection and the way it opens out human understanding towards a re-imagination of Creation and of God's beauty. . . . [T]he clarity and sober excitement with which [Robinette] writes will surely attract readers into the vision he so compellingly spells out."  James Alison, author, Faith Beyond Resentment


"A valuable illustration of characteristics of a new generation of theologiansengaging contrasting schools of theology without polarizing polemics; exploring phenomenological, historical, and textual issues in a post-foundationalist, confessional manner; and confronting postmodern topics concerning the gift and body, identity and power."  Bradford Hinze, professor of theology, Fordham University "For a first book
[
Grammars
] is quite simply remarkable. It will, I predict, establish Robinette as one of the best Catholic theologians of his generation. It demonstrates the workings of a powerfully synthetic theological mind . . . [and] displays as pleasing a writing style as one is likely to find in a contemporary theologian."  Cyril O'Regan, professor of theology, University of Notre Dame
Advertisement