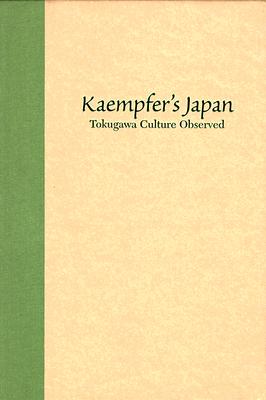 Kaempfer's Japan (Hardcover)
Tokugawa Culture Observed
University of Hawaii Press, 9780824819644, 545pp.
Publication Date: April 1, 1999
Other Editions of This Title:
Paperback (4/1/1999)
* Individual store prices may vary.
Description
Engelbert Kaempfer's History of Japan was a best-seller from the moment it was published in London in 1727. Born in Westphalia in 1651, Kaempfer travelled throughout the Near and Far East before settling in Japan as physician to the trading settlement of the Dutch East India Company at Nagasaki. During his two years residence, he made two extensive trips around Japan in 1691 and 1692, collecting, according to the British historian Boxer, "an astonishing amount of valuable and accurate information". He also learned all he could from the few Japanese who came to Deshima for instruction in the European sciences. To these observations, Kaempfer added details he had gathered from a wide reading of travellers' accounts and the reports of previous trading delegations. The result was the first scholarly study of Japan in the West, a work that greatly influenced the European view of Japan throughout the eighteenth and nineteenth centuries, serving as a reference for a variety of works ranging from encyclopedias to the libretto of "The Mikado".
Kaempfer's work remains one of the most valuable sources for historians of the Tokugawa period. The narrative describes what no Japanese was permitted to record (the details of the shogun's castle, for example) and what no Japanese thought worthy of recording (the minutiae of everyday life). However, all previous translations of the History are flawed, being based on the work of an eighteenth-century Swiss translator or that of the German editor some fifty years later who had little knowledge of Japan and resented Kaempfer's praise of the heathen country. Beatrice Bodart-Bailey's impressive new translation of this classic, which reflects careful studyKaempfer's original manuscript, reclaims the work for the modern reader, placing it in the context of what is currently known about Tokugawa Japan and restoring the humor and freshness of Kaempfer's observations and impressions.

or
Not Currently Available for Direct Purchase