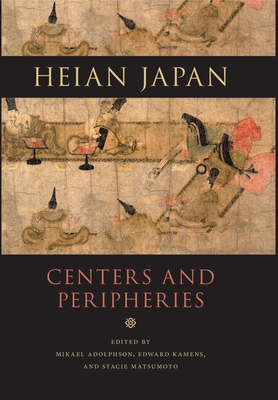 Heian Japan, Centers and Peripheries
Hardcover

* Individual store prices may vary.
Other Editions of This Title:
Paperback (8/31/2021)
Description
"This exceptionally rich set of essays substantially advances our understanding of the Heian era, presenting the period as more fascinating, multi-faceted, and integrated than it has ever been before. This volume marks a turning point in the study of early Japanese culture and will be indispensable for future explorations of the era." --Andrew Edmund Goble, University of Oregon
"As a Japanese historian, I enthusiastically recommend Heian Japan, Centers and Peripheries, the first multi-author English-language academic work to offer a synthetic treatment of the Heian period. Japan's emperor system is the last remaining sovereignty of its kind in human history, and this volume is indispensable when considering what sovereignty itself means in the present. To that end, the classical patterns established in the Heian period are superbly analyzed in this volume through the dual approach of 'centers and peripheries.'" --Hotate Michihisa, Historiographical Institute, University of Tokyo The first three centuries of the Heian period (794-1086) saw some of its most fertile innovations and epochal achievements in Japanese literature and the arts. It was also a time of important transitions in the spheres of religion and politics, as aristocratic authority was consolidated in Kyoto, powerful court factions and religious institutions emerged, and adjustments were made in the Chinese-style system of ruler-ship. At the same time, the era's leaders faced serious challenges from the provinces that called into question the primacy and efficiency of the governmental system and tested the social/cultural status quo. Heian Japan, Centers and Peripheries, the first book of its kind to examine the early Heian from a wide variety of multidisciplinary perspectives, offers a fresh look at these seemingly contradictory trends. Essays by fourteen leading American, European, and Japanese scholars of art history, history, literature, and religions take up core texts and iconic images, cultural achievements and social crises, and the ever-fascinating patterns and puzzles of the time. The authors tackle some of Heian Japan's most enduring paradigms as well as hitherto unexplored problems in search of new ways of understanding the currents of change as well as the processes of institutionalization that shaped the Heian scene, defined the contours of its legacies, and make it one of the most intensely studied periods of the Japanese past. Contributors: Ry ichi Ab , Mikael Adolphson, Bruce Batten, Robert Borgen, Wayne Farris, Karl Friday, G. Cameron Hurst III, Edward Kamens, D. Max Moerman, Samuel Morse, Joan R. Piggott, Fukut Sanae, Ivo Smits, Charlotte von Verschuer.
University of Hawaii Press, 9780824830137, 464pp.
Publication Date: February 1, 2007
About the Author
Mikael S. Adolphson is Keidanren Professor of Japanese Studies at the University of Cambridge .
or
Not Currently Available for Direct Purchase