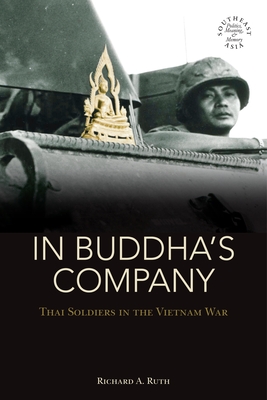 In Buddha's Company (Paperback)
Thai Soldiers in the Vietnam War (Southeast Asia: Politics)
University of Hawaii Press, 9780824834890, 275pp.
Publication Date: September 21, 2010
Other Editions of This Title:
Hardcover (9/16/2010)
* Individual store prices may vary.
Description
In Buddha's Company explores a previously neglected aspect of the Vietnam War: the experiences of the Thai troops who served there and the attitudes and beliefs that motivated them to volunteer. Thailand sent nearly 40,000 volunteer soldiers to South Vietnam to serve alongside the Free World Forces in the conflict, but unlike the other foreign participants, the Thais came armed with historical and cultural knowledge of the region. Blending the methodologies of cultural and military history, Richard Ruth examines the individual experiences of Thai volunteers in their wartime encounters with American allies, South Vietnamese civilians, and Viet Cong enemies. Ruth shows how the Thais were transformed by living amongst the modern goods and war machinery of the Americans and by traversing the jungles and plantations haunted by indigenous spirits. At the same time, Ruth argues, Thailand's ruling institutions used the image of volunteers to advance their respective agendas, especially those related to anticommunist authoritarianism.
Drawing on numerous interviews with Thai veterans and archival material from Thailand and the United States, Ruth focuses on the cultural exchanges that occurred between Thai troops and their allies and enemies, presenting a Southeast Asian view of a conflict that has traditionally been studied as a Cold War event dominated by an American political agenda. The resulting study considers such diverse topics as comparative Buddhisms, alternative modernities, consumerism, celebrity, official memories vs. personal recollections, and the value of local knowledge in foreign wars. The war's effects within Thailand itself are closely considered, demonstrating that the war against communism in Vietnam, as articulated by Thai leaders, was a popular cause among nearly all segments of the population. Furthermore, Ruth challenges previous assertions that Thailand's forces were merely America's mercenaries by presenting the multiple, overlapping motivations for volunteering offered by the soldiers themselves. In Buddha's Company makes clear that many Thais sought direct involvement in the Vietnam War and that their participation had profound and lasting effects on the country's political and military institutions, royal affairs, popular culture, and international relations. As one of only a handful of academic histories of Thailand in the 1960s, it provides a crucial link between the keystone studies of the Phibun-Sarit years (1946-1963) and those examining the turbulent 1970s.47 illus., 2 maps