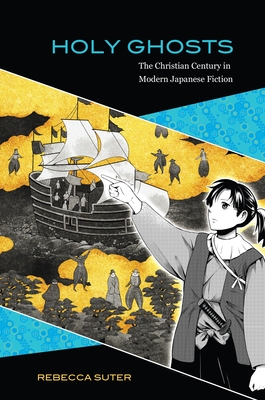 Holy Ghosts
The Christian Century in Modern Japanese Fiction
Hardcover

* Individual store prices may vary.
Other Editions of This Title:
Paperback (10/31/2017)
Description
Christians are a tiny minority in Japan, less than one percent of the total population. Yet Christianity is ubiquitous in Japanese popular culture. From the giant mutant "angels" of the Neon Genesis Evangelion franchise to the Jesus-themed cocktails enjoyed by customers in Tokyo's Christon caf , Japanese popular culture appropriates Christianity in both humorous and unsettling ways. By treating the Western religion as an exotic cultural practice, Japanese demonstrate the reversibility of cultural stereotypes and force us to reconsider common views of global cultural flows and East-West relations.
Of particular interest is the repeated reappearance in modern fiction of the so-called "Christian century" of Japan (1549-1638), the period between the arrival of the Jesuit missionaries and the last Christian revolt before the final ban on the foreign religion. Literary authors as different as Akutagawa Ryūnosuke, Endō Shūsaku, Yamada Fūtarō, and Takemoto Novala, as well as film directors, manga and anime authors, and videogame producers have all expressed their fascination with the lives and works of Catholic missionaries and Japanese converts and produced imaginative reinterpretations of the period. In Holy Ghosts, Rebecca Suter explores the reasons behind the popularity of the Christian century in modern Japanese fiction and reflects on the role of cross-cultural representations in Japan. Since the opening of the ports in the Meiji period, Japan's relationship with Euro-American culture has oscillated between a drive towards Westernization and an antithetical urge to "return to Asia." Exploring the twentieth-century's fascination with the Christian Century enables Suter to reflect on modern Japan's complex combination of Orientalism, self-Orientalism, and Occidentalism. By looking back at a time when the Japanese interacted with Europeans in ways that were both similar to and different from modern dealings, fictional representations of the Christian century offer an opportunity to reflect critically not only on cross-cultural negotiation but also more broadly on both Japanese and Western social and political formations. The ghosts of the Christian century that haunt modern Japanese fiction thus prompt us to rethink conventional notions of East-West exchanges, mutual representations, and power relations, complicating our understanding of global modernity.
University of Hawaii Press, 9780824840013, 208pp.
Publication Date: February 28, 2015
About the Author
Rebecca Suter is senior lecturer in Japanese studies at the University of Sydney.
or
Not Currently Available for Direct Purchase