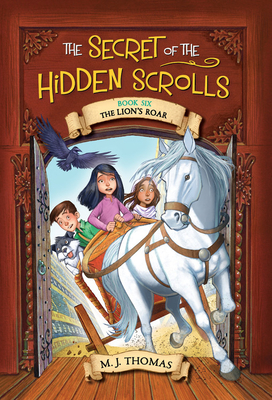 The Secret of the Hidden Scrolls
The Lion's Roar, Book 6
Paperback

* Individual store prices may vary.
Description
In the sixth installment of the time-traveling chapter book series, the Hidden Scrolls take siblings Peter and Mary back to ancient Babylon, where Daniel is about to get thrown into the lions' den.
The Secret of the Hidden Scrolls series follows siblings Peter and Mary and their dog, Hank, as they discover ancient scrolls that transport them back to key moments in biblical history.
In their sixth adventure, the trio travels back in time to the bustling city of Babylon. When Peter and Mary meet Shadrach and Daniel, they learn that there are new laws that make it illegal to worship or pray to anyone but the king. As time to solve the scroll runs out, Peter and Mary face their biggest challenge yet--a sneaky high priest who wants to get them thrown into the lions' den with Daniel.
WorthyKids, 9780824957056, 128pp.
Publication Date: June 4, 2019
About the Author
MIKE THOMAS grew up in Florida playing sports and riding his bike to the library and an arcade named the Cosmic Cowboy. He graduated from Liberty University, earning a bachelor's degree in Bible Studies. When his son Peter was nine years old, Mike went searching for books that would teach Peter about the Bible in a fun, imaginative way. Finding none, he decided to write his own series. Mike Thomas lives in Tennessee with his wife, Lori; two sons, Payton and Peter; and their dog, Hank.