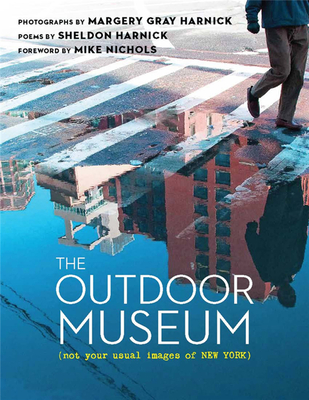 The Outdoor Museum: Not Your Usual Images of New York (Hardcover)
Not Your Usual Images of New York
Beaufort Books, 9780825306754, 128pp.
Publication Date: May 15, 2012
Description
Margery and Sheldon Harnick love New York. It's a place that has both nurtured and applauded them, Sheldon as a renowned Pulitzer Prize-winning Broadway lyricist (Fiorello , Fiddler on the Roof, She Loves Me) and Margery as an accomplished actress, dancer, painter, and photographer. Together, they bring their abundant talent and wit to this homage to their beloved city. The Harnicks began to construct their own virtual museum as they regularly walked the city streets. Looking past the landmarks and cultural icons, they came upon more fascinating and less regarded urban marvels: puddle reflections, subway tiles, sleeping swans, fireworks, public sculpture, store mannequins, and so much more. Margery snapped pictures and Sheldon scribbled verses on a pad. The Outdoor Museum is a singular trophy by two New Yorkers who have contributed to and been touched by the city's magic. The wonders of their collaboration are contained between the covers of this book of photographs with delightful, humorous, and at times deeply touching verse, a Harnick love letter to New York. The book includes a foreword by Mike Nichols, the Grammy, Tony, and Academy Award winning director and producer of Angels in America, The Graduate, and many more.
Advertisement