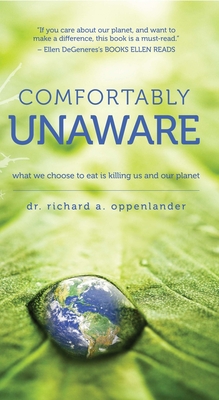 Comfortably Unaware: What We Choose to Eat Is Killing Us and Our Planet (Paperback)
What We Choose to Eat Is Killing Us and Our Planet
Beaufort Books, 9780825306860, 180pp.
Publication Date: November 13, 2012
Description
In Comfortably Unaware, Dr. Richard Oppenlander tackles the crucial issue of global depletion as it relates to food choice. We should all be committed, he tells us, to understanding the reality and consequences of our diet, the footprint it makes on our environment, and seek food products that are in the best interest of all living things. His forthright information and stark mental images are often disturbing-and that's how it should be. As the guardians of Planet Earth, we need to be shaken out of our complacency, to stop being comfortably unaware, and to understand the measures we must take to ensure the health and well-being of our planet-and of ourselves. Oppenlander.
Advertisement