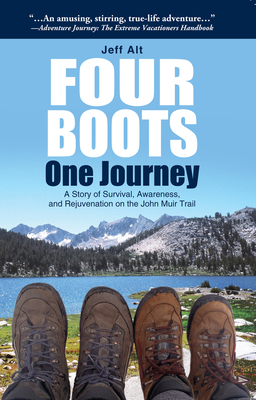 Four Boots-One Journey (Paperback)
A Story of Survival, Awareness & Rejuvenation on the John Muir Trail
Beaufort Books, 9780825307362, 192pp.
Publication Date: July 22, 2014
* Individual store prices may vary.
Description
Originally published as an award-winning paperback: A Hike for Mike. Jeff Alt takes you vicariously along the John Muir Trail, on an entertaining adventure, with his new wife, Beth. Jeff convinces Beth, a woman who prefers hotels, hot showers and warm beds to chuck her domesticated ways and hike over 218-miles which leads to lots of humorous moments. Together, they traverse three national parks, including the highest mountain in the contiguous United States, Mt. Whitney. Jeff is compelled to take Beth on a hike after her brother tragically dies by suicide. Jeff thinks the hike will do Beth some good. They walk in her brother's memory as a depression awareness campaign. The Alt's journey is full of inspiration and adventure; from menacing bears, to lightning bolts, mountain lions, food shortages, and altitude sickness. Beth discovers the trials and joy of backpacking and they emerge from the trail rejuvenated.