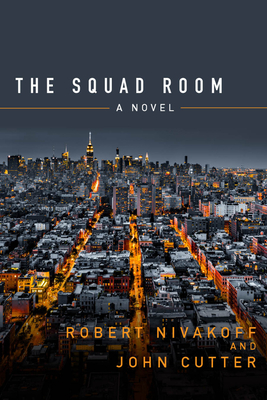 The Squad Room (Hardcover)
A Novel
Beaufort Books, 9780825307911, 306pp.
Publication Date: May 23, 2016
* Individual store prices may vary.
Description
There have been countless crime dramas written about murder mysteries, but none written by two actual Police Chiefs. Co-Written by retired NYPD Deputy Chief John Cutter and retired City of Stamford Chief of Police Bob Nivakoff, The Squad Room touches on the real-life experiences of Chief Cutter and Chief Nivakoff, through the lens of fiction.
The Squad Room tells the tale of NYPD Captain William "Bill" Morrison's hunt to track down a ferocious serial killer and sexual predator that is terrorizing New York City. Morrison is a world-class investigator, a "Cop's Cop," with the respect of his peers, but his personal life is in disarray. His son, also a NYPD Officer, is dead, gunned down in the line of duty, leaving Bill a haunted shell of a man. His second marriage is in shambles as his only true loves are his children and "the job." Morose, Morrison finds solace in an extra-marital affair, alcohol and the members of his Detective Squad, the men and women in blue that constitute his second family.
You may believe you know what evil looks like, but The Squad Room shows you that the face of unspeakable horror can come in many forms. Morrison and his team are racing against time to identify and bring the murderer to justice. Meanwhile, his Detective Squad runs up against villains inside the system: a Chief and a Detective who got where they are by political maneuvering, rather than skill and merit.
Cutter and Nivakoff don't hold back—The Squad Room gives you a genuine insider's view into the NYPD and the triumphs and tribulations that Police officers experience on a regular basis and the toll that policing takes on the mental and physical health of police officers and their families. 
About the Author
Born and raised in Nassau County, Long Island, Chief John Cutter started his 24+ year career in law enforcement in 1980 as a police officer working in New York City's gritty Public Housing Projects. Starting as a Foot Patrol officer during the Crack-Epidemic, Cutter rose through the ranks of the NYPD serving as the Commanding officer of the famous Major Crimes Unit and later of Manhattan North Detective Operations. Cutter continued to be promoted through the ranks, eventually achieving the rank of Deputy Chief and was tasked with implementing and overseeing all counter-terrorism activities within the NYPD's illustrious Criminal Intelligence Division. In addition to his position within the NYPD, Mr. Cutter was also designated the commanding officer of the New York/New Jersey Regional Intelligence Center, a multi-agency command center which collected, analyzed and distributed intelligence materials from a local, state and federal level.
Born and raised in Queens, New York, the son of a New York State Trooper, Chief Bob Nivakoff started his 40-year career in law enforcement in 1973 as a Patrol Officer in the New York Port Authority Police Department, walking a beat in the gritty Port Authority Bus Terminal. In 1980, Nivakoff transferred to the City of Stamford Police Department where he rose through the ranks serving as an Undercover Narcotics officer, a Patrol Sergeant, a Major Crimes Unit Detective and Lieutenant and as Patrol and Operations Commander/Chief. In 2009, Nivakoff was appointed Chief of Police and served in that role until retiring in 2012. At the time of his retirement, Stamford had the lowest crime rate in the Northeast and the 9th lowest crime rate of any major city in America. In 2011, Nivakoff was named Connecticut Police Chief of the Year by the Connecticut State Police Commission. 
Praise For The Squad Room: A Novel…
A diverse group of cops handle a murder, as well as squad politics, in this engrossing mystery.
Based on the experiences of police chiefs John Cutter and Robert Nivakoff, The Squad Room is an intriguing murder mystery with a bit of romance. 
Cutter and Nivakoff create a realistic and believable squad of detectives, led by Capt. William Morrison. This book is not for the squeamish. The squad investigates the deaths of several upscale women murdered in a brutal manner, and the scenes are described in graphic detail. Morrison, flawed but likable, is depicted as a "good guy" among a department of officers and detectives who mostly respect him. Rogue cops and an inept and unscrupulous chief complicate matters. Political maneuvers among departments, police corruption, and the bending, sometimes
breaking, of rules are explored.

Events reinforce the difficulties and dangers that law enforcement officers face daily. Decision making that takes place on the job, at all levels, is depicted as challenging and subjective. Some decisions are portrayed as heroic, while others are shown to be blatantly unethical and illegal. At times, the bending of rules is condoned as a means to an end. 
Several long passages of monologue recount past events. Scenes that include more back-and-forth dialogue, and those depicting action, are more engaging. 
Morris faces his own challenges, as his personal life is in disarray: he's distraught over the death of his son in the line of duty, he struggles with alcoholism, and he has no emotional connection with his wife. When he meets a woman in a bar, he quickly starts an affair that is invigorating for him, though not integral to the story or the character. 
Dispelling the myth of the "blue wall," this mystery shows how officers self-police, to an extent, to expose corruption. The officers are loyal to each other, but not blindly. Further, diversity among the department—in race, ethnicity, gender, sexual orientation, and personality—is highlighted, and a progressive message is established, particularly with the captain's acceptance of a newly transferred female detective to the squad. Throughout, there is an emphasis on how only a cop can understand another cop, but this compelling murder mystery offers everyone a small glimpse into life in law enforcement.
- Maria Siano - Spring 2016 - ForeWord Review
or
Not Currently Available for Direct Purchase