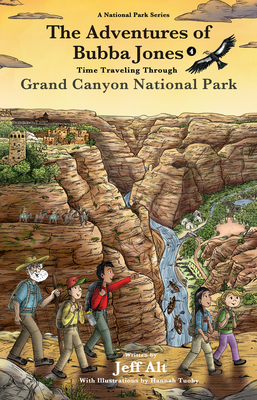 The Adventures of Bubba Jones (#4)
Time Traveling Through Grand Canyon National Park (A National Park Series #4)
Paperback

* Individual store prices may vary.
Description
In the fourth book of this award-winning national park series, Tommy "Bubba Jones" and his sister, Jenny "Hug-a-Bug," uncover amazing facts about the Grand Canyon while on a mission to solve a park mystery. This is no ordinary brother and sister duo, they are part of a legendary time travel family with a mission to preserve and protect our national parks and they have developed a reputation for solving mysteries in the parks. As they time travel back hundreds, thousands, and millions of years, they not only learn about the past, they experience it. They encounter all sorts wild creatures and plants. They meet the people involved in the establishment of this national park, they learn about the Native Americans that call this land home and they unravel some of the park's secrets. Explore the Grand Canyon in a whole new way.
Praise For The Adventures of Bubba Jones (#4): Time Traveling Through Grand Canyon National Park (A National Park Series #4)…
"The fourth book in this great award-winning National Park series brings yet more of the excitement, adventures, and history we've come to enjoy. Time travel, secret codes, passwords, and discoveries are unraveled first hand by Bubba Jones and his sister Hug-a-Bug. Traveling through time, they experience the wonders, dangers, and people that forged the world as we know it today. Truly a great story that will teach with enthusiasm. Sure to hold interest with its easy conversational tone. It draws and engages the reader." —Story Monsters Ink

"Together they are at the helm of their educational adventure, distant historical events made easier to grasp through these character's eyes. This is a book that drums up awe and fascination, fuels dreams of a Grand Canyon hike one day, and inspires young audiences to keep reading. What a joy it would have been for those of us who grew up 20 years ago to have a Bubba Jones of our own. Alt's national park series will hold steadfast for generations[.]" —Svea Conrad, Arizona Daily Sun
Beaufort Books, 9780825309274, 200pp.
Publication Date: August 3, 2020
About the Author
Jeff Alt's adventures have been featured on ESPN, Hallmark Channel, in the AP, and more. Alt is the author of Four Boots One Journey and the award-winning books A Walk for Sunshine and Get Your Kids Hiking. Alt is a member of the Outdoor Writers Association of America (OWAA).
Hannah Tuohy is a children's book illustrator who attended Oklahoma State University and graduated with a BFA in graphic design, emphasizing illustration. Since graduating, Hannah has illustrated over a dozen children's books. She is also a member of SCBWI.