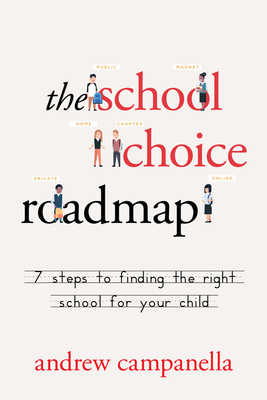 The School Choice Roadmap
7 Steps to Finding the Right School for Your Child
Paperback

* Individual store prices may vary.
Other Editions of This Title:
Digital Audiobook (4/13/2020)
MP3 CD (4/14/2020)
Compact Disc (4/14/2020)
Description
WINNER OF THE 2020 FOREWORD INDIES GOLD AWARD IN EDUCATION
WINNER OF THE SILVER IPPY AWARD FOR BEST EDUCATIONAL RESOURCES

You want your children to benefit from a great education. But every student is unique. One type of school might be a great fit for your neighbor's child, but it might not work for your son or daughter. Across the country, many parents today have more choices for their children's education than ever before. If you are starting the process of finding your child's first school—or if you want to choose a new learning environment—The School Choice Roadmap is for you.

This first-of-its-kind book offers a practical, jargon-free overview of school choice policies, from public school open enrollment to private school scholarships and more. It breaks down the similarities and differences between traditional public schools, public charter schools, public magnet schools, online public schools, private schools, and homeschooling. Most importantly, The School Choice Roadmap offers a seven-step process that will help you harness the power of your own intuition—and your own expertise about your child's uniqueness—to help you find a school that reflects your family's goals, values, and priorities.

Filled with sage advice from dozens of other parents who have pursued the school search process, and interviews with school leaders and teachers, The School Choice Roadmap is an optimistic, empowering book that cuts through the confusion in K-12 education—so that you can give your children every opportunity to succeed in school and in life.
Praise For The School Choice Roadmap: 7 Steps to Finding the Right School for Your Child…
"A reassuring guide for parents, Andrew Campanella's The School Choice Roadmap is all about navigating the sometimes overwhelming decisions around K-12 enrollment. Its outlook positive, the book emphasizes the idea that school choice is personal, not political. It sidesteps the public versus private school debate, suggesting that parents research the options that are available where they live. What matters, it asserts, is what's best for each individual student; it argues that parents are the experts when it comes to knowing their kids. Presented in two parts, the book first forwards an objective overview of six types of schools: traditional public, public charter, public magnet, online public, private, and home. It argues the potential benefits of each, discussing the facts in a friendly way that's appreciative of how busy parents are. This section will be helpful for cutting through school mission statements and numerical ratings to evaluate the key features which are relevant to a family's circumstances. Its information sticks to standard definitions. In its second portion, the book outlines seven steps toward choosing a school. Because of its neutral stance, the book does not meditate on the potential drawbacks of each type of school. Its anecdotes favor successful school placements, and it does not spend much time exploring how to select a school that complements the different ways that children learn, from visual-spatial learning to kinesthetic learning, though these impact success in any given classroom. Special needs and gifted students are addressed but are not a point of focus. Encouraging parents to take confident, active roles in shaping their children's academic experiences, the book presumes a somewhat level field. Rural locales, economic issues, and other factors that impact school decisions are underevaluated. Some gaps are addressed with resources for those seeking scholarships and a list of websites for further advocacy. A frequently asked questions list addresses situations such as transferring not being an option, and the book suggests ways for parents to make their children's current schools better. The book features some noteworthy schools from across the nation, from schools that are steeped in language immersion, STEM, or the arts to those that focus on college preparation or special needs. These examples demonstrate that good schools can be found in many settings, both public and private. Quotes from parents and educators reiterate the importance of considering each child's unique makeup to find a good fit, and they represent a variety of perspectives. Helpful charts depict potential choices across fifty states. When it comes to deciding, the book's clarifying worksheets are designed to help. They center on thinking about personal values, urging parents to recall the pros and cons of their own school experiences and to consider their children's interests and strengths. Such reflective exercises are helpful for focusing one's personal criteria. Practical information, including a list of questions to ask on school tours, takes away some of the anxiety about picking the "right" place. The School Choice Roadmap distills American educational options for busy parents, whom it encourages to look beyond one-size-fits-all thinking. With a convincing platform that's based on helping children thrive, this is a fair-minded resource." —Karen Rigby, Foreword Reviews/Clarion Reviews

"A resource for parents who feel overwhelmed by the prospect of school choice. Campanella is the president of the annual public-awareness effort National School Choice Week, and his debut book offers a clear road map for choosing the best schools for one's children. Its initial chapters lay down fundamental concepts—that parents are the experts on their own children, that what works for one child may not work for another, and that geographic location is a key factor in choosing a school. He then introduces six education options: traditional public schools, public charter schools, online public schools, public magnet schools, private schools, and home schooling. He provides basic descriptions of each choice, complete with quick summaries of management styles, how teachers are certified, and other factors. He also offers tables regarding each choice's geographic availability, although these lack some specificity. "My Takes" summarize the author's thoughts on each education option, such as "Private Schools can be unique, diverse, and more affordable than you might think." The author walks readers through his seven-step process (starting with "Think Back to Your Own Time in School" and "Identify Your Goals for Your Child"), providing questions for readers to ask themselves as they do their own research. Worksheets help to focus the discussion with a structured, methodical approach. The questions feel repetitious at times, but they effectively highlight important items. The final chapter asks readers to share their experiences with others, which sweetly concludes the main text. Readers may have questions that the seven-step plan doesn't directly address, but Campanella's lengthy "Frequently Asked Questions" section will likely help them. Overall, the author succeeds in his stated desire to remove politics from the school-choice discussion. However, more critical commentary would have been useful, as some descriptions feel overly idealistic. Throughout, Campanella includes supportive, inspiring quotations from parents and school administrators as well as examples of successful schools around the country; several regions are noticeably underrepresented, however. A straightforward and often useful companion for those on a school-choice journey." —Kirkus Indies
Beaufort Books, 9780825309328, 271pp.
Publication Date: January 21, 2020
or
Not Currently Available for Direct Purchase