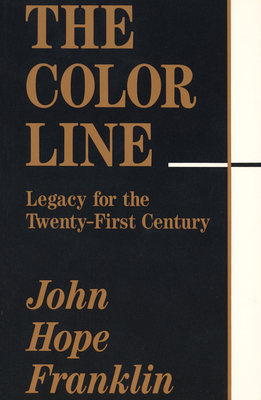 The Color Line (Paperback)
Legacy for the Twenty-First Century (The Paul Anthony Brick Lectures #1)
University of Missouri, 9780826209641, 104pp.
Publication Date: March 1, 1994
Other Editions of This Title:
Hardcover (2/1/1993)
* Individual store prices may vary.
Description
Nearly twenty years after his book Racial Equality in America, Franklin addressed the issue of racial inequality. In the Paul Anthony Brick Lectures given at the University of Missouri-Columbia, just one day after the "not guilty" verdict was returned in the trial of Los Angeles police officers for the beating of Rodney King, Franklin delivered a piercing depiction of the color line that persists in America. A scathing portrait of how discrimination has been allowed to flourish and a poignantly despairing prognosis for its end, The Color Line: Legacy for the Twenty-First Century is a perfect companion to the earlier volume. Together these books powerfully define and describe the long-held, but still unrealized, goal of equal rights for all Americans.
About the Author
John Hope Franklin is the author of many books, including From Slavery to Freedom: A History of Negro Americans and the highly acclaimed biography George Washington Williams. With more than ninety honorary degrees and dozens of other awards and honors, Franklin is the James B. Duke Professor Emeritus of History and, from 1985 to 1992, was Professor of Legal History in the Law School at Duke University.
Praise For The Color Line: Legacy for the Twenty-First Century (The Paul Anthony Brick Lectures #1)…
"Echoing W.E.B. Du Bois's 1903 assertion that the problem of the 20th century 'is the problem of the color line,' historian Franklin...argues that this will be the problem of the 21st century as well....His cogent observations will spur further discussion."—Publishers Weekly
"Anyone interested in understanding or improving America needs to read this powerful little book. Highest recommendation."—Library Journal
"It gives the non-historian, in accessible prose, the advantage of his more than 50 years of scholarship on a subject that many Americans would just as soon forget. If the harsh truth about America's racial history is ever going to be digested, unassuming works such as this one will surely play a part."—The St. Petersburg Florida Times
"Few will fault the reasoning of Mr. Franklin's conclusions, drawn from his half-century of scholarship. A color-blind society, like a crime-free society, may be an elusive ideal, but in a practical sense, Mr. Franklin maintains, there is much our leaders can do to eliminate the color line."—The New York Times
or
Not Currently Available for Direct Purchase