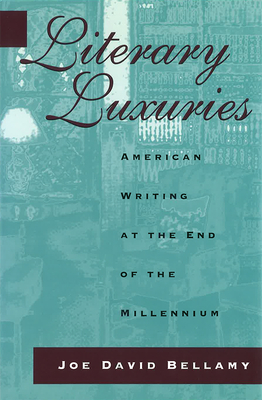 Literary Luxuries (Hardcover)
American Writing at the End of the Millennium
University of Missouri, 9780826210296, 248pp.
Publication Date: November 1, 1995
* Individual store prices may vary.
Description
From the Iowa Writers Workshop to the halls of Congress and the National Endowment for the Arts, from the world of literary magazines and writers' conferences to the bizarre realm of the late-twentieth-century American English department, Literary Luxuries takes the reader on a guided tour of American literary life in our time--and the forces threatening its existence.
Joe David Bellamy has been a significant figure on the literary scene during the last three decades; as a "literary Everyman," he offers in Literary Luxuries a distinctive and valuable perspective on the culture wars, on education and the imagination, on particular writers and major literary and aesthetic movements, on the role of government in fostering cultural development, and on the day-to-day strife of the writer's life in the United States.
As director of the literature program of the National Endowment for the Arts, Bellamy had the unenviable task of trying to persuade Congress and ordinary citizens that American literature is worthy of support, and in Literary Luxuries he continues that debate and helps us to understand its implications: "Literature is our national treasury of language and style and our best reckoning about human life, as it is lived in this time and place."
Part memoir, part critique, part impassioned defense of American literary culture and the values it espouses and struggles to uphold, Literary Luxuries offers unforgettable commentary on the literary life in the United States during the last decades of the twentieth century as described from the perspective of one of its key participants.
About the Author
Director of the literature program of the National Endowment for the Arts from 1990 through 1992, Joe David Bellamy won the Editors' Book Award for his novel Suzi Sinzinnati, and his collection of short fiction, Atomic Love, was an AWP Award Series selection. He is also author or editor of ten other books, including The New Fiction, Superfiction, American Poetry Observed, and two collections of poetry. A former president of both the Associated Writing Programs (AWP) and the Coordinating Council of Literary Magazines (CCLM), Bellamy was the founding editor and publisher of Fiction International magazine and press. He has taught fiction writing and contemporary American literature for more than twenty-five years at St. Lawrence University, George Mason University, the University of Iowa, and elsewhere.
Praise For Literary Luxuries: American Writing at the End of the Millennium…
"Literary Luxuries is a linked gathering of essays presenting, from lively and provocative points of view, a history and a vision of contemporary writing and culture, an authentic firsthand account of the literary life in our age. I believe that it will arouse and provoke strong reactions from readers who will be captured, as I was, by the intellectual yet personal story it tells. From first to last, we hear Bellamy's voice, and it is the voice of the author and its lively consistency that give this book its undeniable integrity."--George Garrett
"Joe David Bellamy is one of our foremost editors, writers, and teachers. During its run under Bellamy's editorship, Fiction International quickly became one of the most influential little magazines in this country--right up there with Antaeus and Paris Review--and it is a tribute to its lasting influence that so many of the writers he published early on have gone on to prominence."--T. Coraghessan Boyle
"Literary Luxuries is an exciting and informative book that offers readers a coherent overview of American literary history of the last thirty years that is, to my knowledge, unobtainable anywhere else. This book will be an important resource for literary historians and scholars studying the American literary culture of the second half of the twentieth century."--Kelly Cherry
or
Not Currently Available for Direct Purchase