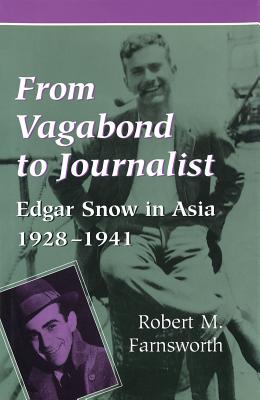 From Vagabond to Journalist (Hardcover)
University of Missouri, 9780826210609, 472pp.
Publication Date: June 1, 1996
* Individual store prices may vary.
or
Not Currently Available for Direct Purchase
Description
At the age of nineteen Edgar Snow (1905-1972) left his native Kansas City to begin a career in advertising in New York. Four years later, impatient with the lack of recognition for his achievements, he broke from his advertising job to try the adventure of working and writing his way around the world. His journey stalled for thirteen years in Asia, where Snow came to be considered the most authoritative reporter on the Communist movement in China and an important reporter on Asia at large to the Western world. His
Red Star over China
has been recognized as a classic of modern journalism. In
From Vagabond to Journalist,
Robert M. Farnsworth brings to life the Snow who went to and reported on China between 1928 and 1941.This intimate and meaningful portrayal of Edgar Snow draws on the rich legacy of personal letters, diaries, and manuscripts left by Snow and his first wife, Helen Foster. Farnsworth's skill in using this material gives the reader a clear understanding of how Snow's personal life and his philosophical perspective affected his writings and contributed to his success.
Beginning with Snow's youthful ambition to travel the globe and concluding with his notable, if unobtrusive, role in the reestablishment of diplomatic ties between America and China, Farnsworth weaves a spellbinding narrative. Snow's adventure in Asia began in Yokohama where he landed as a stowaway from Hawaii. Then, just steps ahead of Japanese port police, he made his way to China, where he soon empathized with the suffering of the Chinese people and became curious about the role Communism might play in the rebellion against colonialism. As he traveled throughout the continent during the next thirteen years, Snow established contacts with many important people and won extraordinary personal access to the leaders of the Chinese Communist Party. In 1936 he became the first Western journalist to visit the Chinese Red forces and report on a detailed interview with Mao Tse-tung after the completion of the epic Long March. His connections in China allowed him to return to the country several times during the Cold War, and as the Cold War began to thaw, American magazines were again happy to publish his writing because of his access to the major players in China.
Well researched and well written, From Vagabond to Journalist will be of great interest to anyone concerned with the history of modern China, U.S.-Chinese relations, journalism, or Edgar Snow.
About the Author
Robert M. Farnsworth is Professor of English, Emeritus, at the University of Missouri-Kansas City. He is the author of Melvin B. Tolson, 1898-1966: Plain Talk and Poetic Prophecy and editor of Caviar and Cabbage: Selected Columns by Melvin B. Tolson from the Washington Tribune, 1937-1944 and A Gallery of Harlem Portraits.
Advertisement