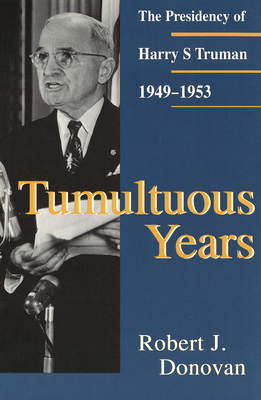 Tumultuous Years (Paperback)
The Presidency of Harry S. Truman, 1949-1953 (Give 'em Hell Harry #1)
University of Missouri, 9780826210852, 448pp.
Publication Date: September 1, 1996
Other Editions of This Title:
Hardcover (9/1/1996)
* Individual store prices may vary.
Description
"In January of 1949 the aftershocks of the Second World War were still jarring large parts of the globe, although they had greatly diminished in the United States. In Asia, however, turbulence continued to rise as a result of the collapse of Japan, the tottering of the European empires after the war, and the combustion produced by nationalism mixed with communism. Because a segment of American opinion, generally represented in the more conservative wing of the Republican party, was very sensitive to events in Asia, the tremors in the Far East came as harbingers of disturbing political conflict in the United States."
Robert J. Donovan's Tumultuous Years presents a detailed account of Harry S. Truman's presidency from 1949-1953.
About the Author
Formerly a newspaper journalist and senior fellow at the Woodrow Wilson School of Public and International Affairs at Princeton University, Robert J. Donovan covered the White House during the Truman years for the New York Herald Tribune. He is the author of several books, including Conflict and Crisis: The Presidency of Harry S. Truman, 1945-1948. and Boxing the Kangaroo: A Reporter's Memoir (both with the University of Missouri Press).
The
Give 'Em Hell Harry Series,
edited by Robert H. Ferrell.
Praise For Tumultuous Years: The Presidency of Harry S. Truman, 1949-1953 (Give 'em Hell Harry #1)…
"An admiring study by a solid historian."--National Review
"With this second volume, Donovan completes what is now the best available history of the Truman presidency. As in the first volume (Conflict and Crisis), his subjects are people and events that affected the president, as well as Truman himself. . . . With an eye for detail, Donovan recalls forgotten as well as better known men and movements, including MacArthur and McCarthyism. . . . Highly recommended."--Library Journal
"Vivid, thorough and illuminating--an arresting study of an arresting President."--Arthur Schlesinger, Jr.
"A fitting sequel to a fine first volume. Donovan's narrative of Truman's troubled second term--a melodrama in a dozen acts--is balanced in judgment, fast in pace, and fascinating as a cool correction to most recent commentaries both on HST in human terms and on the so-called imperial presidency."--Richard E. Neustadt
"Robert J. Donovan has devoted 18 years to Harry S. Truman. As Washington correspondent for The New York Herald Tribune, Mr. Donovan was a close observer for more than seven years of the Truman Administration and he has spent over 10 years working on two volumes, Conflict and Crisis . . . and . . . Tumultuous Years. Together they are among the best books on the Presidency ever written. . . . Tumultuous Years is filled with fresh and revealing insights."--New York Times Book Review
or
Not Currently Available for Direct Purchase