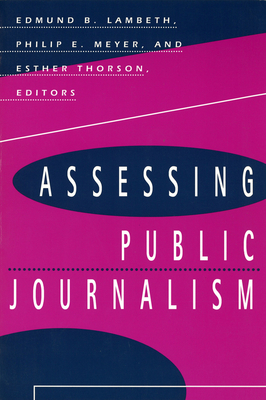 Assessing Public Journalism Assessing Public Journalism Assessing Public Journalism (Paperback)
University of Missouri, 9780826211583, 304pp.
Publication Date: July 10, 1998
* Individual store prices may vary.
Description
In response to increasingly negative attitudes toward journalism and its coverage of public affairs, many newspapers and television stations across the United States have experimented with novel approaches to reporting to better meet the public's demand for news. Known as "civic" or "public" journalism, this new movement seeks to improve the news media's ability to supply the information and insights needed by citizens of a democratic society. Critics of public journalism say it contradicts some principles of traditional reporting. As a result, the new movement has spurred great controversy among journalists. Assessing Public Journalism is the first book to evaluate this movement.
Public journalists use a variety of innovative methods to achieve their goals. To connect more closely with citizens, they may listen to their readers and viewers in neighborhood settings and public forums. To frame stories more accurately, they sometimes conduct focus groups and opinions polls. To maximize the reach of their work, print and electronic journalists have experimented with coordinated coverage of key elections and major public issues. Their goal is a form of journalism that improves the quality of citizen deliberation and participation in public life.
By collecting and focusing a wide range of original research and selected professional commentary, Assessing Public Journalism provides the necessary framework for examining the issues surrounding public journalism and for determining what must be done to enable it to meet its full potential. Scholars, journalists, and concerned citizens will benefit from this vital study.
About the Author
About the EditorsEdmund B. Lambeth is Professor of Journalism at the University of Missouri-Columbia and former president of the Association of Schools of Journalism and Mass Communication. He is the author of Committed Journalism: An Ethic for the Profession.Philip Meyer is Professor of Journalism at the University of North Carolina in Chapel Hill. He is the author of several publications, most recently Ethical Journalism: A Guide for Students and The Vanishing Newspaper: Saving Journalism in the Information Age, Updated Second Edition.Esther Thorson is the Associate Dean of Journalism at the University of Missouri School of Journalism. She is author or coeditor of several books, including Integrated Communication: Synergy of Persuasive Voices.
or
Not Currently Available for Direct Purchase