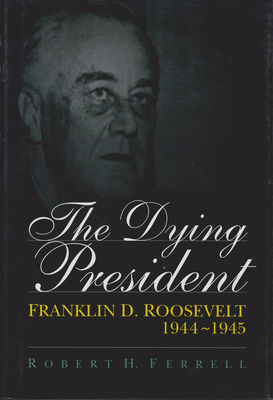 The Dying President Dying President Dying President: Franklin D. Roosevelt, 1944-1945 Franklin D. Roosevelt, 1944-1945 Franklin D. Roosevelt, 1944-194 (Hardcover)
Franklin D. Roosevelt, 1944-1945 Franklin D. Roosevelt, 1944-1945 Franklin D. Roosevelt, 1944-194
University of Missouri, 9780826211712, 200pp.
Publication Date: April 3, 1998
* Individual store prices may vary.
or
Not Currently Available for Direct Purchase
Description
In this authoritative account, Robert H. Ferrell shows how the treatment of President Franklin D. Roosevelt's illness in 1944- 1945 was managed by none other than the president himself. Although this powerful American president knew that he suffered from cardiovascular disease, he went to great lengths to hide that fact--both from his physician and from the public. Why Roosevelt disguised the nature of his illness may be impossible to discern fully. He was a secretive man who liked to assign only parts of tasks to his assistants so that he, the president, would be the only one who knew the whole story. The presidency was his life, and he did not wish to give it up.
The president's duplicity, though not easily measurable, had a critical effect on his performance. Placed on a four-hour-a-day schedule by his physicians, Roosevelt could apply very little time to his presidential duties. He took long vacations in South Carolina, Warm Springs, the Catoctin Mountains, and Hyde Park, as well as lengthy journeys to Hawaii, Canada, and Yalta. Important decisions were delayed or poorly made. America's policy toward Germany was temporarily abandoned in favor of the so-called Morgenthau Plan, which proposed the "pastoralization" of Germany, turning the industrial heart of Europe into farmland. Roosevelt nearly ruined the choice of Senator Harry S. Truman as his running mate in 1944 by wavering in the days prior to the party's national convention. He negotiated an agreement with Winston Churchill on sharing postwar development of nuclear weapons but failed to let the State Department know. And, in perhaps the most profoundly unwise decision, Roosevelt accepted a fourth term when he could not possibly survive it.
In his final year, a year in which he faced crucial responsibility regarding World War II and American foreign policy, Franklin D. Roosevelt failed to serve the nation as a healthy president would have. Reading like a mystery story, The Dying President clears up many of the myths and misunderstandings that have surrounded Roosevelt's last year, finally revealing the truth about this missing chapter in FDR's life.
About the Author
Robert H. Ferrell is Professor Emeritus of History at Indiana University in Bloomington. He is the author or editor of numerous books, including Collapse at Meuse-Argonne: The Failure of the Missouri-Kansas Division and Meuse-Argonne Diary: A Divison Commander in World War I, both available from the University of Missouri Press. Ferrell resides in Ann Arbor, Michigan.
Praise For The Dying President Dying President Dying President: Franklin D. Roosevelt, 1944-1945 Franklin D. Roosevelt, 1944-1945 Franklin D. Roosevelt, 1944-194…
"The Dying President is the most significant study of Roosevelt's last year. No future biography of FDR or any work that deals with his wartime actions and policies could now be written without reference to this comprehensive study."—Amos Perlmutter
Advertisement