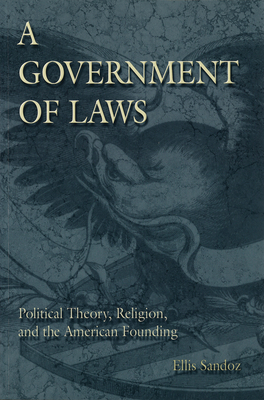 A Government of Laws (Paperback)
Political Theory, Religion, and the American Founding (The Eric Voegelin Institute Series in Political Philosophy #1)
University of Missouri, 9780826213600, 280pp.
Publication Date: October 1, 2001
* Individual store prices may vary.
Description
In A Government of Laws, which includes a new preface, Ellis Sandoz re-evaluates the traditional understanding of the philosophic and intellectual background of the American founding.  Through an exhaustive assessment of Renaissance, medieval, and ancient political philosophy, he shows that the founding fathers were consciously and explicitly seeking to create a political order that would meet the demands of human nature and society.  This rigorous and searching analysis of the sources of political and constitutional theory generates an original and provocative approach to American thought and experience.
About the Author
Ellis Sandoz, Hermann Moyse Jr. Distinguished Professor of Political Science, is Director of the Eric Voegelin Institute for American Renaissance Studies at Louisiana State University. He is the general editor of Voegelin's History of Political Ideas and author or editor of numerous books, including The Politics of Truth and Other Untimely Essays: The Crisis of Civic Consciousness and most recently The Voegelinian Revolution: A Biographical Introduction.
Praise For A Government of Laws: Political Theory, Religion, and the American Founding (The Eric Voegelin Institute Series in Political Philosophy #1)…
"This insightful book makes a positive contribution to our understanding of the role classical and religious ideas played in the U.S. founding, and it offers a compelling critique of analyses that highlight secular Enlightenment, liberal, and republican ideologies to explain America's heritage."—American Political Science Review
"In this important, learned, and insightful book, the main thrust of which `is theoretical rather than antiquarian or simply historical' . . . Sandoz defines the founding as `a unique anti- modernist rearticulation of Western Civilization . . . profoundly indebted to classical and Western influences.'"—William and Mary Quarterly
"It is difficult to write a reasonably short review of Ellis Sandoz's latest work because virtually every page contains a masterful observation, a bit of analysis, a felicitous turn of phrase, or some delightful historical tidbit begging to be paraded in front of the reviewer's audience."--Journal of Policy Theory
"It is a fine, bracing book that brings together with scholarly care the religious and political convictions of those who were crucial to the founding. [A Government of Laws] should be read by those who care about the distinctiveness of the American constitutional project, and how it might be set to right."—First Things
"A Government of Laws is a sane, witty, triumphant recovery of the nation's essential heritage."—Christian Science Monitor
"One of the great strengths of this unusually learned and thoughtful book lies in the light it indirectly sheds on the very questions it does not directly engage. . . . Sandoz forcefully draws attention to the resonance of the great philosophers of ancient and medieval Europe in the American Founders' concern, thought, and practice . . . he argues cogently that modern ideas of freedom and democracy would be incomprehensible if abstracted from the Christian inheritance of Western civilization."— Reviews in American History
or
Not Currently Available for Direct Purchase