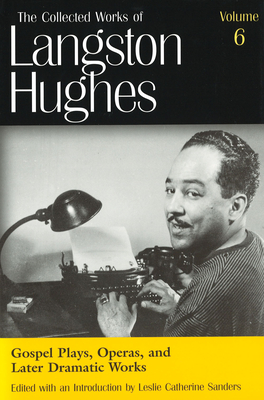 Gospel Plays, Operas, and Later Dramatic Works (LH6) (The Collected Works of Langston Hughes #6) (Hardcover)
University of Missouri, 9780826214775, 712pp.
Publication Date: October 8, 2018
* Individual store prices may vary.
Description
Although Langston Hughes had a lifelong engagement in theater and other performance arts, his work in this area is the least known of his rich and complex contributions to African American expressive culture. This volume focuses on Hughes's plays after 1942, along with all of his other work written for performance, including operas, musicals, radio plays, ballet librettos, and song lyrics, all of which demonstrate his strong determination to inject an African American presence into a range of cultural forms. 
If Hughes's contributions to African American theater in the 1930s were foundational, in his later stage career he created the theatrical form for which he is best known, the gospel play. Taking advantage of gospel music's crossover success in the 1950s, Hughes wrote four such plays; his most famous, Black Nativity, not only was a hit in New York, but it also toured Europe and is still a Christmas tradition in many African American churches. Generally, Hughes achieved more commercial stage success in this later period. As lyricist for Kurt Weill's Street Scene, he experienced Broadway acclaim; he turned his Simple stories into a musical, Simply Heavenly, and wrote his gospel-musical Tambourines to Glory. 
In fact, aside from a few educational or occasional pieces, virtually all of Hughes's stage writing after 1942 incorporated music in some form. He wrote five complete operas and several cantatas, as well as the musicals and gospel plays, and hundreds of song lyrics. 
Hughes's intense engagement with theater and other performance arts lasted more than thirty-five years. In every genre he attempted, Hughes left unforgettable and inspiring work, giving rise to the range and richness of contemporary African American theatrical achievement.
About the Author
About the Editor
Leslie Catherine Sanders is on the faculty at York University and is the cofounder of the Centre for the Study of Black Cultures in Canada. She is the author of The Development of Black Theater in America and coeditor of The Collected Works of Langston Hughes, Volume 5, The Plays to 1942: Mulatto to The Sun Do Move.
About the Author
Langston Hughes was one of the most influential and prolific writers of the twentieth century.
 
or
Not Currently Available for Direct Purchase