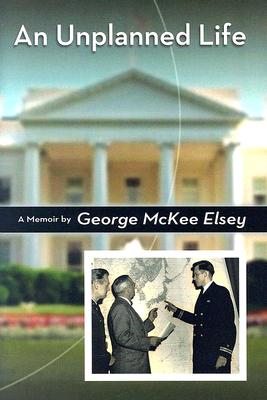 An Unplanned Life
A Memoir
Hardcover

* Individual store prices may vary.
Other Editions of This Title:
Hardcover (12/1/2005)
Description
An Unplanned Life is the scintillating memoir of George Elsey, a small-town kid from western Pennsylvania who, at age twenty-four, was assigned to Franklin Roosevelt's top-secret intelligence and communications center in the White House. As an officer in the U.S. Naval Reserve, Elsey helped brief the president and his senior associates on war events. He and his map room colleagues acted as the secretariat for Roosevelt's cabled exchanges with Winston Churchill, Joseph Stalin, and Chiang Kai-shek; filed records of "summit conferences"; and stored in safes plans for future operations. He also traveled with the president in order to code and decode the classified messages that flowed between the presidential train or ship and the White House.Elsey's duties continued with Harry Truman's succession to the presidency. He decoded the famous message from Secretary of War Henry Stimson reporting the dropping of the atomic bomb on Hiroshima and carried it to President Truman. In 1947, he shed his Naval Reserve uniform and joined the White House's civilian staff as assistant to the special counsel to the president. In 1949, he became administrative assistant to the president, and, in 1952, he became a member of the Mutual Security Agency staff. During those years, he grew very close to Harry Truman, and thus, a major portion of An Unplanned Life relates to his experiences then.In the first postwar winter, Elsey was frequently the only staff member who accompanied President Truman on the USS Williamsburg. In September 1946, Elsey submitted a report to Truman on U.S.-Soviet relations, which came to be well known as the "Clifford-Elsey Report." Providing Truman with notes for some two hundred of his "back-of-the-train" informal talks, Elsey played a part in the best remembered feature of the "Whistle-Stop Campaign" that resulted in "the political upset of the century." In addition to his years at the White House, Elsey also touches on his post–White House years—his time in private industry, his months with Clark Clifford when Clifford was trying unsuccessfully to extricate America from Vietnam, and his long association with the American Red Cross. An Unplanned Life is a fascinating look at the life of an extraordinary individual who played an important and unprecedented part in two different presidents' decisions and affected the course of our nation. Anyone with an interest in history will find this memoir fascinating and invaluable.
Praise For An Unplanned Life: A Memoir…
"This is surely the last personal memoir to be written by a public servant who worked closely in the White House with FDR and Truman. An Unplanned Life is a fascinating—and probably final—piece of eyewitness testimony. George Elsey makes vital contributions to the history of World War Two and to the history of the Cold War from Korea to Vietnam, interspersed with lively sketches of his presidents in their relaxed moments. It is an honest book, candid and readable."—Arthur Schlesinger, Jr.
"George Elsey was an eye and ear witness to some of the greatest deliberations and decisions of the last century. This is not a story shaken out of the archival dustbins. Elsey was there, a young Naval Intelligence officer in the famed White House Map Room, serving up the material for President Franklin Roosevelt and Prime Minister Winston Churchill as they went through the season of defeat and despair and designed a strategy of gathering strength and ultimate victory. He guided Roosevelt in his wheelchair in front of the secret maps in the basement of the White House. He heard up close the Churchillian rumbles of defiance and determination. Later, he would ride President Harry Truman¹s 1948 campaign train when Truman confounded the experts and won a second term. George Elsey¹s memoir is one of the rare authentic treasures of American history."—Hugh Sidey
"[Elsey] has had an uncanny knack for being in the right place at the right time. This parade of personages and events that he has witnessed up close and sometimes affected is really mind-boggling. From FDR's map room to D-Day, to FDR's funeral, to Truman and containment and his stunning reelection, to Korea, to the waning days of LBJ's administration and Clark Clifford's artful efforts for extrication from Vietnam—they are all there and more. It's a fascinating ride through some of the greatest doings of the mid-twentieth century."—John Milton Cooper
University of Missouri, 9780826216229, 288pp.
Publication Date: December 1, 2005
About the Author
George McKee Elsey began writing his memoir as a source of information for his two teenage grandsons. In addition to his years of working for the White House, he also served as the Vice President and President of the American Red Cross. Over the past twenty years, Elsey has been interviewed numerous times on PBS, C-Span, and other U.S. and British television networks on his recollections of his service. Now retired, Elsey lives in Washington, D.C.
or
Not Currently Available for Direct Purchase