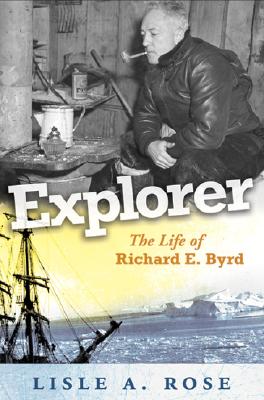 Explorer
The Life of Richard E. Byrd
Hardcover

* Individual store prices may vary.
Description
"Danger was all that thrilled him," Dick Byrd's mother once remarked, and from his first pioneering aviation adventures in Greenland in 1925, through his daring flights to the top and bottom of the world and across the Atlantic, Richard E. Byrd dominated the American consciousness during the tumultuous decades between the world wars. He was revered more than Charles Lindbergh, deliberately exploiting the public's hunger for vicarious adventure. Yet some suspected him of being a poseur, and a handful reviled him as a charlatan who claimed great deeds he never really accomplished.
Then he overreached himself, foolishly choosing to endure a blizzard-lashed six-month polar night alone at an advance weather observation post more than one hundred long miles down a massive Antarctic ice shelf. His ordeal proved soul-shattering, his rescue one of the great epics of polar history. As his star began to wane, enemies grew bolder, and he struggled to maintain his popularity and political influence, while polar exploration became progressively bureaucratized and militarized. Yet he chose to return again and again to the beautiful, hateful, haunted secret land at the bottom of the earth, claiming, not without justification, that he was "Mayor of this place."
Lisle A. Rose has delved into Byrd's recently available papers together with those of his supporters and detractors to present the first complete, balanced biography of one of recent history's most dynamic figures. Explorer covers the breadth of Byrd's astonishing life, from the early days of naval aviation through his years of political activism to his final efforts to dominate Washington's growing interest in Antarctica.   Rose recounts with particular care Byrd's two privately mounted South Polar expeditions, bringing to bear new research that adds considerable depth to what we already know. He offers views of Byrd's adventures that challenge earlier criticism of him—including the controversy over his claim to being the first to have flown over the North Pole in 1926—and shows that the critics' arguments do not always mesh with historical evidence.
Throughout this compelling narrative, Rose offers a balanced view of an ambitious individual who was willing to exaggerate but always adhered to his principles—a man with a vision of himself and the world that inspired others, who cultivated the rich and famous, and who used his notoriety to espouse causes such as world peace. Explorer paints a vivid picture of a brilliant but flawed egoist, offering the definitive biography of the man and armchair adventure of the highest order.
Praise For Explorer: The Life of Richard E. Byrd…
"Thoroughly researched, balanced in interpretation, and very readable, Lisle Rose's biography of Admiral Richard Byrd, the controversial but accomplished polar explorer and leader, will stand prominently in the literature of biography, American history, and polar exploration. It sets a very high standard for any future study of the man who was called "the Mayor of Antarctica." General readers will enjoy the book and scholars will need to cite it."—Raimund E. Goerler, editor of To the Pole: The Diary and Notebook of Richard E. Byrd
"Explorer is a superb modern biography of Rear Admiral Richard Byrd and his exploits in the coldest places on earth. Lisle Rose has captured Byrd's sense of adventure and egotism, chivalry and charlatanism, public hucksterism, and private power-brokering. Well-researched, superbly reasoned, and engagingly written, Explorer is an important addition to the literature of polar exploration."—Roger Launius, author of Frontiers of Space Exploration and editor of Innovation and the Development of Flight
"Rose has given us fascinating accounts of Byrd's early Arctic flying, the controversial North and South Pole flights, and the little remembered transatlantic flight of 1927. He has dug up a great amount of new information on the First and Second Byrd Antarctic Expeditions, as well as the U.S. Navy's Operation Deep Freeze in the late fifties. He tells the astounding story of Byrd's bizarre attempt to spend the Antarctic winter by himself, 123 miles south of Little America where his men fought among themselves, eventually launching a harrowing rescue of their stranded leader. All told, this remarkable book is the definitive biography of Richard E. Byrd."—John C. Behrendt, author of Innocents on the Ice: A Memoir of Antarctic Exploration, 1957 and The Ninth Circle: A Memoir of Life and Death in Antarctica, 1960–1962
University of Missouri, 9780826217820, 568pp.
Publication Date: March 1, 2008
About the Author
Lisle A. Rose holds a Ph.D. in American history from the University of California, Berkeley, and is the author of fourteen books, including Explorer: The Life of Richard E. Byrd and the Power at Sea trilogy, all published by the University of Missouri Press. Over the course of his life, he has been a sailor, a professor, a diplomat, and a court-appointed special advocate for at-risk children. He lives in Edmonds, Washington, with his wife, historian Harriet Dashiell Schwar.

Full bio: Lisle A. Rose (b. October 23, 1936) is a retired U.S. State Department official, former university teacher and author of 14 books. Following three plus years in the United States Navy as a polar sailor, Rose received his B.A. degree from the University of Illinois in 1961 and his Ph.D in American history from the University of California Berkeley in 1966. Following several teaching positions, he joined the State Department's Historical Office in 1972 where he spent the next five years editing various compilations in the ongoing series, Foreign Relations of the United States. In 1978, Dr. Rose transferred to the Department's Bureau of Oceans, International Scientific and Environmental Affairs where he served first as Polar Affairs Officer and then as Advanced Technology Affairs Specialist. During these years, he was a member of the U.S. Delegation to the Third United Nations Conference On the Law of the Sea, and drafted policy initiatives on the Arctic and earth remote sensing. He also lectured on these topics abroad. Rose retired in 1989, relocating to the Seattle area where he has engaged in an active writing and publishing career.
or
Not Currently Available for Direct Purchase