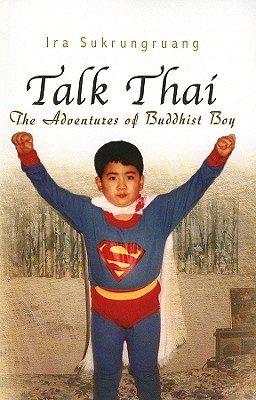 Talk Thai
The Adventures of Buddhist Boy
Paperback

* Individual store prices may vary.
Other Editions of This Title:
Hardcover (3/1/2010)
Description
On one side of the door, the rich smell of sweet, spicy food and the calm of Buddhist devotion; on the other, the strangeness of a new land.
When Ira Sukrungruang was born to Thai parents newly arrived in the U.S., they picked his Jewish moniker out of a book of "American" names. In this lively, entertaining, and often hilarious memoir, he relates the early life of a first-generation Thai-American and his constant, often bumbling attempts to reconcile cultural and familial expectations with the trials of growing up in 1980s America.
Young Ira may have lived in Oak Lawn, Illinois, but inside the family's bi-level home was "Thailand with American conveniences." They ate Thai food, spoke the Thai language, and observed Thai customs. His bedtime stories were tales of Buddha and monkey-faced demons. On the first day of school his mother reminded him that he had a Siamese warrior's eyes—despite his thick glasses—as Aunty Sue packed his Muppets lunch box with fried rice. But when his schoolmates played tag he was always It, and as he grew, he faced the constant challenge of reconciling American life with a cardinal family rule: "Remember, you are Thai."
Inside the Thai Buddhist temple of Chicago, another "simulated Thailand," are more rules, rules different from those of the Southside streets, and we see mainstream Western religion—"god people"—through the Sukrungruang family's eyes. Within the family circle, we meet a mother who started packing for her return to Thailand the moment she arrived; her best friend, Aunty Sue, Ira's second mother, who lives with and cooks for the family; and a wayward father whose dreams never quite pan out.
Talk Thai is a richly told account that takes us into an immigrant's world. Here is a story imbued with Thai spices and the sensibilities of an American upbringing, a story in which Ira practices English by reciting lines from TV sitcoms and struggles with the feeling of not belonging in either of his two worlds. For readers who delight in the writings of Amy Tan, Gish Jen, and other Asian-Americans, Talk Thai provides generous portions of a still-mysterious culture while telling the story of an American boyhood with humor, playfulness, and uncompromising honesty.
Praise For Talk Thai: The Adventures of Buddhist Boy…
"An engaging, artfully constructed take on the immigrant/assimilation experience. Talk Thai is a fresh and compelling journey into the author's life."—Dinty W. Moore, author of Between Panic and Desire and The Accidental Buddhist: Mindfulness, Enlightenment, and Sitting Still
"Talk Thai is a story of a young boy growing up in a house heavy with questions asked in one language and answered in another. It is a mature reflection of what constitutes family, home, belonging and friendship—an exploration of the sights and sounds, the smells and sorrows of growing up and choosing from different cultures the values and the characteristics of manhood. Ira Sukrungruang's memoir is a rich contribution to the voices that create the language of America's immigrant population."—Kalia Yang, author of The Latehomecomer: A Hmong Family Memoir
"In Talk Thai, Ira Sukrungruang gives readers a fresh, funny, and poignant perspective on childhood, identity, cultural confusion, and growing up Thai American. This is a gem of a memoir."—Bich Minh Nguyen, author of Stealing Buddha's Dinner and Short Girls
University of Missouri, 9780826219329, 184pp.
Publication Date: January 25, 2011
About the Author
Ira Sukrungruang has published fiction, nonfiction, and poetry in numerous periodicals and coedited What Are You Looking At? The First Fat Fiction Anthology and Scoot Over, Skinny: The Fat Nonfiction Anthology. He is an Assistant Professor of English at the University of South Florida and lives in Brandon with his wife and three dogs.
or
Not Currently Available for Direct Purchase