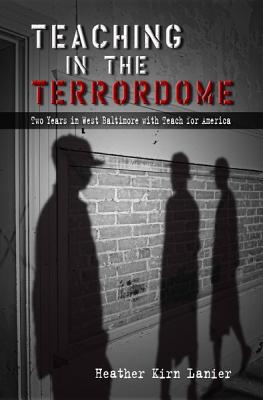 Teaching in the Terrordome (Paperback)
Two Years in West Baltimore with Teach for America
University of Missouri, 9780826219862, 256pp.
Publication Date: October 29, 2012
* Individual store prices may vary.
Description
Only 50 percent of kids growing up in poverty will earn a high school diploma. Just one in ten will graduate college. Compelled by these troubling statistics, Heather Kirn Lanier joined Teach For America (TFA), a program that thrusts eager but inexperienced college graduates into America's most impoverished areas to teach, asking them to do whatever is necessary to catch their disadvantaged kids up to the rest of the nation.
With little more than a five-week teacher boot camp and the knowledge that David Simon referred to her future school as "The Terrordome," the altruistic and naïve Lanier devoted herself to attaining the program's goals but met obstacles on all fronts. The building itself was in such poor condition that tiles fell from the ceiling at random. Kids from the halls barged into classes all day, disrupting even the most carefully planned educational activities. In the middle of one lesson, a wandering student lit her classroom door on fire. Some colleagues, instantly suspicious of TFA's intentions, withheld their help and supplies. ("They think you're trying to 'save' the children," one teacher said.) And although high school students can be by definition resistant, in west Baltimore they threw eggs, slashed tires, and threatened teachers' lives. Within weeks, Lanier realized that the task she was charged with—achieving quantifiable gains in her students' learning—would require something close to a miracle.
Superbly written and timely, Teaching in the Terrordome casts an unflinching gaze on one of America's "dropout factory" high schools. Though Teach For America often touts its most successful teacher stories, in this powerful memoir Lanier illuminates a more common experience of "Teaching For America" with thoughtful complexity, a poet's eye, and an engaging voice. As hard as Lanier worked to become a competent teacher, she found that in "The Terrordome," idealism wasn't enough. To persevere, she had to rely on grit, humility, a little comedy, and a willingness to look failure in the face. As she adjusted to a chaotic school administration, crumbling facilities, burned-out colleagues, and students who perceived their school for the failure it was, she gained perspective on the true state of the crisis TFA sets out to solve. Ultimately, she discovered that contrary to her intentions, survival in the so-called Charm City was a high expectation.
About the Author
Heather Kirn Lanier is Visiting Assistant Professor of English at Miami University in Hamilton, Ohio. She is the author of The Story You Tell Yourself.
Praise For Teaching in the Terrordome: Two Years in West Baltimore with Teach for America…
"For those who have worked at a school outside of an urban setting, the book can be used to compare successful and unsuccessful schools in a multitude of ways. Alternatively, those who have worked at a similar school to Lanier's…will appreciate reflecting on difficult experiences with a narrative that captures the daily and yearly frustrations only a high-needs school educator would fully understand."—JCT Online

"Lanier is a fine writer with a refreshingly realistic story to tell. Few lives are saved and no achievement gaps are wiped out during her two years at a very bad Baltimore high school, but you get a vivid sense of what is wrong with the culture and organization of such places, and how much it will take to make them better. This book is, among other things, a great gift for a new teacher."—Jay Mathews, Washington Post columnist and author of Work Hard. Be Nice: How Two Inspired Teachers Created the Most Promising Schools in America
"What shall happen to us with our hope? Teaching in the Terrordome tackles the hardest possible questions, not only for educators, but for anyone who treads the line between optimism and the gritty reality of our age. Heather Kirn Lanier's memoir is both compelling and wise."—Stephen Kuusisto, author of Planet of the Blind

"I loved Teaching in the Terrrordome. It's a heart-wrenching, sometimes humorous, and much needed account of what it's like to be a new teacher—one with smarts, courage, compassion and still—totally unprepared! Who could be prepared? I couldn't put it down."—Deborah Meier, senior scholar at the Steinhardt School of Education at New York University and co-author of Playing for Keeps

"Heather Kirn Lanier's insightful analysis of her experience as a new teacher provides readers with a unique vantage point for understanding what is wrong with American education. Her example shows us that it will take more than a few dedicated, young Teach for America Corp members to save America's schools. In fact, this myth is perpetuating the mistaken notion that all we need to do is fire the 'bad teachers', and shut down the 'bad schools' to solve the education dilemma. Lanier shows us that the problems are far more complex and she makes it clear that hard work and good intentions can never make up for failed policies and weak leadership at the state and federal level. Clear, well-written, candid and occasionally funny, this book is a must read for those who want to understand many of the problems facing urban schools and are willing to honestly consider what we must do to address them."— Pedro A. Noguera, Peter L. Agnew Professor of Education, NYU and author of The Trouble With Black Boys and Other Reflections on Race, Equity and the Future of Public Education
or
Not Currently Available for Direct Purchase