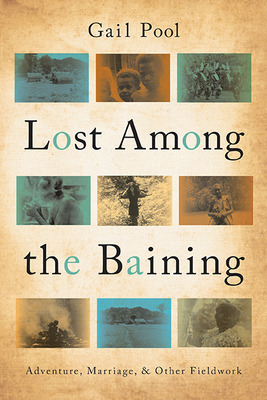 Lost Among the Baining
Adventure, Marriage, and Other Fieldwork
Hardcover

* Individual store prices may vary.
Description
In the late sixties, Gail Pool and her husband set off for an adventure in New Guinea. He was a graduate student in anthropology; she was an aspiring writer. They prepared, as academics do, by reading, practicing with language tapes, consulting with the nearest thing to experts, and then, excited and optimistic, off they went. But all their research could not prepare them for the reality of life in the jungle. As they warded off gargantuan insects, slogged through seemingly endless mud, and turned on each other in fatigue and frustration, they struggled to somehow connect with their enigmatic hosts, the Baining—a people who showed no desire to be studied.
Sixteen months later they returned home. Despite months of trying, they had not been able to make sense of the Baining's culture. Worse yet, their lives no longer seemed to make sense. Pool put her journals away. Her husband abandoned the study of anthropology.
Decades later, Pool returned to her journals and found in her jumbled notes the understanding that had eluded her twenty-three–year-old self. Finally, she and her husband returned to New Guinea for a shorter visit and a warm reunion with the tribe that challenged them on so many levels and, Pool now realized, made their journey and lives deeper and richer.
Praise For Lost Among the Baining: Adventure, Marriage, and Other Fieldwork…
"An engaging account of a young couple's anthropological field trip that leaves them disillusioned and lays a foundation for their marriage and subsequent lives. Pool's particularly effective management of voice as she describes her lifelong attempt to understand her experience make this an accomplished work, as does her plumbing of the power of memoir to go where anthropology cannot."—Nancy McCabe, author of From Little Houses to Little Women

University of Missouri, 9780826220516, 296pp.
Publication Date: June 2, 2015
About the Author
Gail Pool is a writer whose work has focused on criticism, the culture of magazines, and travel. Her columns, essays, and reviews have appeared in such publications as the New York Times, the ChristianScience Monitor, Columbia Journalism Review, and the Women's Review of Books. She is also the author of Faint Praise (University of Missouri Press). Pool lives with her husband in Cambridge, Massachusetts and Sanibel, Florida.

or
Not Currently Available for Direct Purchase