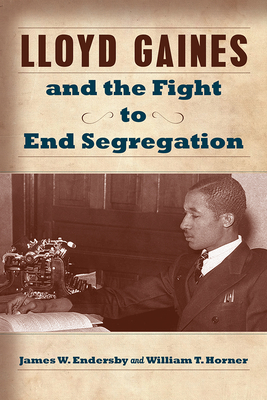 Lloyd Gaines and the Fight to End Segregation (Hardcover)
University of Missouri, 9780826220851, 336pp.
Publication Date: March 31, 2016
Description
Winner, 2017 Missouri Conference on History Book Award
In 1936, Lloyd Gaines's application to the University of Missouri law school was denied based on his race. Gaines and the NAACP challenged the university's decision.
Missouri ex rel. Gaines v. Canada
(1938) was the first in a long line of decisions by the U.S. Supreme Court regarding race, higher education, and equal opportunity. The court case drew national headlines, and the NAACP moved Gaines to Chicago after he received death threats. Before he could attend law school, he vanished.
This is the first book to focus entirely on the Gaines case and the vital role played by the NAACP and its lawyers--including Charles Houston, known as "the man who killed Jim Crow"--who advanced a concerted strategy to produce political change. Horner and Endersby also discuss the African American newspaper journalists and editors who mobilized popular support for the NAACP's strategy. This book uncovers an important step toward the broad acceptance of racial segregation as inherently unequal.
This is the inaugural volume in the series Studies in Constitutional Democracy, edited by Justin Dyer and Jeffrey Pasley of the Kinder Institute on Constitutional Democracy.
About the Author
James W. Endersby is associate professor of political science at the University of Missouri. His work has appeared in the Journal of Politics, Electoral Studies, Political Communication, and Social Science Quarterly.William T. Horner is teaching professor of political science at the University of Missouri. His publications include Ohio's Kingmaker: Mark Hanna, Man and Myth and Showdown in the Show Me State: The Long Fight over Conceal and Carry in Missouri.
Advertisement