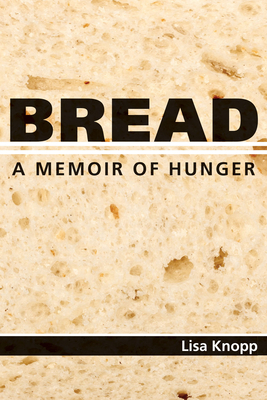 Bread (Hardcover)
A Memoir of Hunger
University of Missouri, 9780826221025, 170pp.
Publication Date: October 25, 2016
* Individual store prices may vary.
Description
When she was 54, Lisa Knopp's weight dropped to a number on the scale that she hadn't seen since seventh grade. The severe food restricting that left her thin and sick when she was 15 and 25 had returned. This time, she was determined to understand the causes of her malady and how she could heal from a condition that is caused by a tangle of genetic, biological, familial, psychological, cultural, and spiritual factors. This compelling memoir, at once a food and illness narrative, explores the forces that cause eating disorders and disordered eating, including the link between those conditions in women, middle-aged and older, and the fear of aging and ageism.

Winner of the 2017 Nebraska Book Award for Memoir

2017 Choice Outstanding Academic Title
About the Author
Lisa Knopp, author of Bread: A Memoir of Hunger, is also the author of five collections of essays, each of which explores the concepts of place, home, nature, and spirituality. What the River Carries: Encounters with the Mississippi, Missouri, and Platte was the winner of the 2013 Nebraska Book Award in the nonfiction/essay category and tied for second place in the 2013 ALSE (Association for the Study of Literature and the Environment) book awards for environmental creative nonfiction.

Knopp's essays have appeared in numerous literary publications including Missouri Review, Michigan Review, Iowa Review, Gettysburg Review, Northwest Review, Cream City Review, Brevity: A Journal of Concise Literary Nonfiction, Connecticut Review, Shenandoah, Creative Nonfiction, Prairie Schooner, Iowa Review, and Georgia Review.

Knopp is a Professor of English at the University of Nebraska-Omaha, where she teaches courses in creative nonfiction. She grew up in Burlington, Iowa, and now lives in Lincoln, Nebraska.

For further information on Lisa Knopp, visit www.lisaknopp.com.
Praise For Bread: A Memoir of Hunger…
"Disordered eating is often misunderstood, and conversations surrounding the topic are challenging to tackle; Knopp provides an informative, intriguing account of her experiences, lending a voice to those who experience similar circumstances and who frequently feel ignored."—Choice
"Very highly recommended, especially for community, college, and university library Contemporary American Biography collections."—Midwest Book Review
"The hunger with which Knopp struggles against – and sometimes surrenders to – is physical, metaphorical, personal, cultural, spiritual, and existential. Knopp's search for a healthy relationship with food is also a quest for meaning and balance that transcends the body. Written in vivid and compelling prose, this important book is both intellectually and emotionally authentic."—Sue William Silverman, author, The Pat Boone Fan Club: My Life as a White Anglo-Saxon Jew
"In this moving memoir, Lisa Knopp deftly weaves research and personal narrative to deepen our understanding of the complex causes and ramifications of disordered eating. At one point or another in our lives, each of us has been "famished for something hard to name." Knopp gives voice to that yearning, at the same time she refuses to shy away from asking difficult questions. Bread is a gift that will help any reader embrace his or her own resistance story."—Kate Hopper, author of Ready for Air and Use Your Words: A Write Guide for Mothers
"Knopp delves into the connections that bind her objects of hunger--for bread, love, justice, safety, and words. Weaving personal stories, reflection, and a dazzling range of research, she turns her prodigious talents as an essayist to the question of food and its biological, social, cultural, and spiritual implications. This essaying memoir is a profound and important contribution."—Sonya Huber, author of Cover Me: A Health Insurance Memoir
"BREAD= sustenance + substance + satisfaction. Such a simple, positive equation, yet one that confounds people with eating disorders. Lisa Knopp has chosen just the right metaphor through which to tell her own confounding story of disordered eating and its recurrent role throughout her life."—Aimee Liu, author of Gaining: The Truth About Life After Eating Disorders
"Knopp addresses the little-discussed phenomenon of eating disorders/disordered eating among women as aging cloaks them in a kind of cultural invisibility. Retracing her own life through the lens of her "malady," Knopp also broadens the conversation to examine American cultural values and the roles that motherhood, mother-blame, ageism and patriarchal systems have played in her own ongoing conflicts with food."—Nancy McCabe, University of Pittsburgh-Bradford, author of Sophie: A Memoir of Adoption