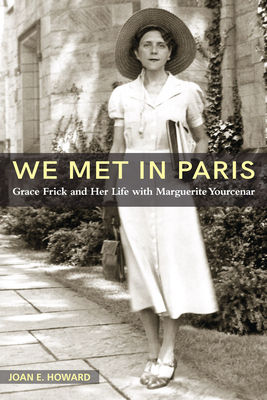 "We Met in Paris" (Hardcover)
Grace Frick and Her Life with Marguerite Yourcenar
University of Missouri, 9780826221551, 468pp.
Publication Date: May 31, 2018
Other Editions of This Title:
Paperback (3/16/2020)
* Individual store prices may vary.
Description
Grace Frick introduced English-language readers all over the world to the distinguished French author Marguerite Yourcenar with her award-winning translation of Yourcenar's novel Memoirs of Hadrian in 1954. European biographies of Yourcenar have often disparaged Frick and her relationship with Yourcenar, however. This work shows Frick as a person of substance in her own right, and paints a portrait of both women that is at once intimate and scrupulously documented. It contains a great deal of new information that will disrupt long-held beliefs about Yourcenar and may even shock some of her scholars and fans.
About the Author
Joan E. Howard is the director of Petite Plaisance, the former home of Marguerite Yourcenar and Grace Frick, and is the author of From Violence to Vision: Sacrifice in the Works of Marguerite Yourcenar. She divides her time between Augusta and Northeast Harbor, Maine.
Praise For "We Met in Paris": Grace Frick and Her Life with Marguerite Yourcenar…
"A very engaging and thought-provoking portrayal of Grace Frick, who she was as a person and how she worked with and for Marguerite Yourcenar to construct their life together and create the environment that allowed works like Memoirs of Hadrian to come into being."—Francesca Counihan, Maynooth University, author of L'Autorité dans l'œuvre romanesque de Marguerite Yourcenar
"We will henceforth be obliged to count this biography of Grace Frick in the forefront of biographies of Marguerite Yourcenar."—Bérengère Deprez, Editor at Presses universitaires de Louvain, author of Marguerite Yourcenar and the USA: From Prophecy to Protest
"In this remarkable and essential first biography of Grace Frick, Joan E. Howard paints the figure of a twentieth century woman eager to promote women's education and to defend civil rights; a woman passionate about literature who became the indefatigable translator of the works of her lover, the French writer Marguerite Yourcenar. Against the clichés spread by many of Yourcenar's biographers, Howard does justice to the relationship between the two women, to the life they chose to build together, and gives us a deeper understanding of their entwined literary careers."—Béatrice Mousli, University of Southern California, author of Susan Sontag
"Marguerite Yourcenar was one of the greatest writers of the last century. If we knew anything about her long-time companion, Grace Frick, it was as an eccentric, protective and rather unattractive attendant/translator. But as we have come to recognize the incomparable importance of Alice B. Toklas to Gertrude Stein, now, thanks to this moving and deeply-researched biography by Joan E. Howard, Grace Frick's partnership with Mme Yourcenar will be given the same illustrious credit Frick deserves."—Caroline Seebohm, author of Monumental Dreams: The Life and Sculpture of Ann Norton and The Innocents
"In this ground-breaking biography, Joan Howard presents Grace Frick as a remarkable person in her own right and as the treasured partner of the writer Marguerite Yourcenar. Howard's research has been exhaustive; her findings effectively challenge every earlier assessment of the couple's relationship, proving as well how essential Frick was to Yourcenar's professional and everyday life."—Sue Lonoff de Cuevas, contributor, Marguerite Yourcenar: Croquis et griffonnis


"'Major lesbian biographies' is a short roster of books. Lesbian subjects have been largely erased from history. Consequently, often in the past, and even today, the biographer's task is made all the more difficult by the subjects themselves, their executors, and their gatekeepers. Tackling erasure requires a special kind of courage and dedication on the part of the biographer . . . Joan Howard joins this distinguished sisterhood with We Met in Paris."—The Gay & Lesbian Review

"An especially and unreservedly recommended addition to both community and academic library Literary Biography collections.—Midwest Book Review