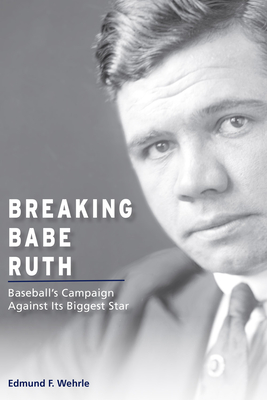 Breaking Babe Ruth (Hardcover)
Baseball's Campaign Against Its Biggest Star (Sports and American Culture)
University of Missouri, 9780826221605, 302pp.
Publication Date: May 31, 2018
* Individual store prices may vary.
Description
Rather than as a Falstaffian figure of limited intellect, Edmund Wehrle reveals Babe Ruth as an ambitious, independent operator, one not afraid to challenge baseball's draconian labor system. To the baseball establishment, Ruth's immense popularity represented opportunity, but his rebelliousness and potential to overturn the status quo presented a threat. After a decades-long campaign waged by baseball to contain and discredit him, the Babe, frustrated and struggling with injuries and illness, grew more acquiescent, but the image of Ruth that baseball perpetuated still informs how many people remember Babe Ruth to this day. This new perspective, approaching Ruth more seriously and placing his life in fuller context, is long overdue.
About the Author
Edmund F. Wehrle is Professor of History at Eastern Illinois University, Charleston.
Praise For Breaking Babe Ruth: Baseball's Campaign Against Its Biggest Star (Sports and American Culture)…
"For nearly two decades, Major League Baseball waged a war, primarily through the press, against its greatest hero—on one hand using Ruth to save the game from its most tainted era, while on the other 'infantilizing' Ruth and feeding the myth of a naïve, wayward adolescent in order to control their savior's more dangerous impulses."—Nathan Michael Corzine, Instructor in History, Coastal Carolina Community College; author of Team Chemistry: The History of Drugs and Alcohol in Major League Baseball
"A welcome edition to the library of Babe Ruth books."—Jeremy Schaap, ESPNs' "The Sporting Life."
"A fascinating story that seeks to show an aspect of Babe Ruth's career not dealt with in past biographies. Wehrle succeeds in showing how the baseball establishment aided by the journalism of the day sought to portray Ruth as a spoiled and unintelligent man-child. After Breaking Babe Ruth all future writers about Ruth and his times will have to deal with Wehrle's ground-breaking research. Well-written and based on an exhaustive examination of the sources for Ruth and his times. Will take its place among the key books for understanding the sport of baseball in the 1915-1940 era."—John Rossi, Professor Emeritus of History, LaSalle University, Philadelphia
"This is a well-researched work rooted in the periodical literature of its period; it also engages and adjusts the voluminous literature on Ruth."—Ryan K. Anderson, Associate Professor of History, University of North Carolina–Pembroke; author of Frank Merriwell and the Fiction of All-American Boyhood: The Progressive Era Creations of the Schoolboy Sports Story.
"A nuanced and well-researched economic and social biography of the game's greatest slugger, who was more than just the lovable and naive Babe." —David Alvarez,
The Inside Game
"A well-written, well-sourced, timely examination of the construction and flexibility of athletes' reputations."—Elizabeth O'Connell Gennari,
Journal of Sports History 
"Breaking Babe Ruth
shines fresh light on its subject. It is a historical corrective, an
amicus brief
for the most compelling and dominant
athlete of his era."—Daniel A. Nathan,
Journal of American History