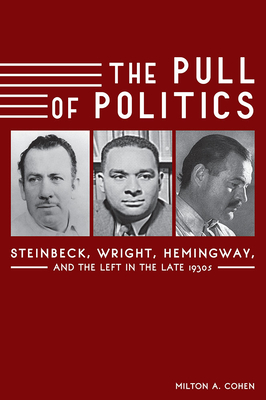 The Pull of Politics
Steinbeck, Wright, Hemingway, and the Left in the Late 1930s
Hardcover

* Individual store prices may vary.
Description
In the late 1930s, John Steinbeck, Richard Wright, and Ernest Hemingway wrote novels that won critical acclaim and popular success: The Grapes of Wrath, Native Son, and For Whom the Bell Tolls. All three writers were involved with the Left at the time, and that commitment informed their fiction. Milton Cohen examines their motives for involvement with the Left; their novels' political themes; and why they separated from the Left after the novels were published. These writers were deeply conflicted about their political commitments, and Cohen explores the tensions that arose between politics and art, resulting in the abandonment of a political attachment.
Praise For The Pull of Politics: Steinbeck, Wright, Hemingway, and the Left in the Late 1930s…
"These three writers are at last placed side by side, revealing how close their mindsets were, yet how different each was from the other. A significant contribution to American literary criticism."—Earle Bryant, editor of Byline, Richard Wright: Articles from the Daily Worker and New Masses

"Cohen does an admirable job of explicating how these authors responded to the rise of the Popular Front and other leftist movements: Steinbeck's concern with homegrown fascism, Hemingway's involvement in Loyalist Spain, and Wright's belief that racism reflected fascist impulses."—Gary Holcomb, co-editor of Hemingway and the Black Renaissance

"Literary history is first and foremost a story--in this case, the story of three writers pulled to the political left in the 1930s by different forces. The Pull of Politics is a timely, refreshing reminder of how individuals must negotiate their own ideas and allegiances with collective political movements. Milton Cohen's book is an excellent comparative study of how Steinbeck, Wright, and Hemingway struggled through the era's messy politics to achieve their landmark novels of 1940."—Alex Vernon, Hendrix College, author of Hemingway's Second War: Bearing Witness to the Spanish Civil War
University of Missouri, 9780826221636, 382pp.
Publication Date: October 1, 2018
About the Author
Milton A. Cohen is a Professor of Literary Studies at the University of Texas at Dallas and the author of four books, including Beleaguered Poets and Leftist Critics: Stevens, Cummings, Frost, and Williams in the 1930s. He lives in Richardson, Texas.