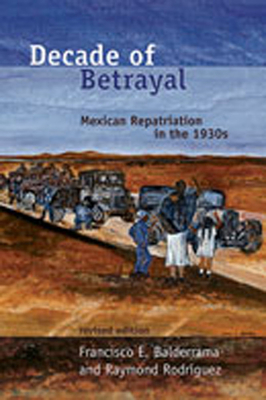 Decade of Betrayal
Mexican Repatriation in the 1930s
Paperback

* Individual store prices may vary.
Description
During the Great Depression, a sense of total despair plagued the United States. Americans sought a convenient scapegoat and found it in the Mexican community. Laws forbidding employment of Mexicans were accompanied by the hue and cry to get rid of the Mexicans The hysteria led pandemic repatriation drives and one million Mexicans and their children were illegally shipped to Mexico.
Despite their horrific treatment and traumatic experiences, the American born children never gave up hope of returning to the United States. Upon attaining legal age, they badgered their parents to let them return home. Repatriation survivors who came back worked diligently to get their lives back together. Due to their sense of shame, few of them ever told their children about their tragic ordeal.
Decade of Betrayal recounts the injustice and suffering endured by the Mexican community during the 1930s. It focuses on the experiences of individuals forced to undergo the tragic ordeal of betrayal, deprivation, and adjustment. This revised edition also addresses the inclusion of the event in the educational curriculum, the issuance of a formal apology, and the question of fiscal remuneration.
Francisco Balderrama and Raymond Rodr guez, the authors of Decade of Betrayal, the first expansive study of Mexican repatriation with perspectives from both sides of the border, claim that 1 million people of Mexican descent were driven from the United States during the 1930s due to raids, scare tactics, deportation, repatriation and public pressure. Of that conservative estimate, approximately 60 percent of those leaving were legal American citizens. Mexicans comprised nearly half of all those deported during the decade, although they made up less than 1 percent of the country's population. 'Americans, reeling from the economic disorientation of the depression, sought a convenient scapegoat, ' Balderrama and Rodr guez wrote. 'They found it in the Mexican community.'--American History
University of New Mexico Press, 9780826339737, 376pp.
Publication Date: May 1, 2006
Coverage from NPR