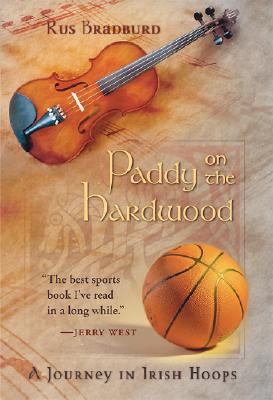 Paddy on the Hardwood (Hardcover)
A Journey in Irish Hoops
University of New Mexico Press, 9780826340269, 239pp.
Publication Date: August 1, 2006
* Individual store prices may vary.
or
Not Currently Available for Direct Purchase
Description
Why would a successful college basketball coach walk away from a lucrative job in America's most glamorous sport? The burned out Rus Bradburd, enamored with Ireland and its music, took a job coaching in the lowly Irish Super League, but was unprepared for what he found. Perplexed by the small town Tralee's Frosties Tigers--a cast of misfits and underachievers more concerned with their day jobs, Gaelic Football, and Guinness--he turned to traditional Irish music for wisdom and solace.
"Paddy on the Hardwood" is partly Rus Bradburd's story of his struggle to transform Tralee's Tigers. But it is also the tale of a man making peace with his own life and career.

"No reader will come away from this irresistible, honest, and deeply human account without a profound appreciation for Ireland and the beguiling power of its people and culture. "Paddy on the Hardwood" is a basketball book, to be sure, but also one about questing and, ultimately, finding. And it's all the richer for how it engages things that seem distant from sports, but in the end aren't so unrelated at all."--Alexander Wolff, "Sports Illustrated" senior writer and author of "Big Game, Small World: A Basketball Adventure"

""Paddy on the Hardwood" is hilarious, heartbreaking, and touching--I couldn't put it down. I'm an avid reader, and it's the best sports book I've read in a long while."--Jerry West.
Advertisement