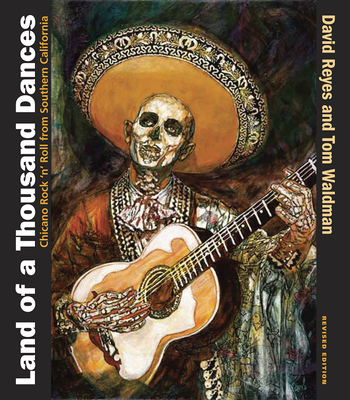 Land of a Thousand Dances
Chicano Rock 'n' Roll from Southern California
Paperback

* Individual store prices may vary.
Description
It's fascinating to read this alternative history of pop music, as Land of a Thousand Dances offers a wealth of anecdotes, interviews, and facts that have never been so meticulously documented. The book helps fill one of the biggest gaps in the rock timeline, ensuring that rock 'n' roll's Chicano roots will not be forgotten.--A. V. Club
Authors David] Reyes and Tom] Waldman give a flavorful overview of the ever-changing East L.A. scene. . . . They note that barrio culture, which so richly intertwines American and Mexican traditions, has given rise to groups who move through many different types of music with ease, as well as the type of fans who can appreciate them all.--Raza Report
Land of a Thousand Dances] is written with insight and intelligence and I highly recommend it.--Mark Guerro, member of Mark & the Escorts, Tango, and Radio Aztlan
The first edition of this definitive history of California Chicano rock pioneers, published in 1998, highlighted such early groups as Ritchie Valens, Cannibal & the Headhunters, and Thee Midniters as well as punk leaders the Plugz, culminating with the musically eclectic Los Lobos. In this revised and expanded edition, authors Reyes, a Chicano music historian and archivist, and Waldman (Not Much Left: The Fate of Liberalism in America) include material about newer artists such as Quetzal and Lysa Flores. In the ten years since the book was first published, California's Spanish-speaking population has dramatically increased, and there is growing interest in Mexican rock and all the other Mexican musical genres. This book should appeal to any fan of Latino rock who wants to know about its roots and development.--Library Journal
For this edition, the authors have written a new introduction.
University of New Mexico Press, 9780826347220, 200pp.
Publication Date: March 1, 2009