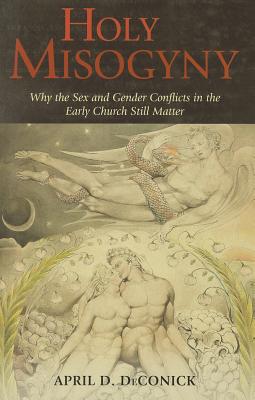 Holy Misogyny (Hardcover)
Why the Sex and Gender Conflicts in the Early Church Still Matter
Continuum, 9780826405616, 182pp.
Publication Date: September 22, 2011
Other Editions of This Title:
Paperback (9/12/2013)
* Individual store prices may vary.
Description
In Holy Misogyny, bible scholar April DeConick wants real answers to the questions that are rarely whispered from the pulpits of the contemporary Christian churches. Why is God male? Why are women associated with sin? Why can't women be priests? Drawing on her extensive knowledge of the early Christian literature, she seeks to understand the conflicts over sex and gender in the early church-what they were and what was at stake. She explains how these ancient conflicts have shaped contemporary Christianity and its promotion of male exclusivity and superiority in terms of God, church leadership, and the bed.
DeConick's detective work uncovers old aspects of Christianity before later doctrines and dogmas were imposed upon the churches, and the earlier teachings about the female were distorted. Holy Misogyny shows how the female was systematically erased from the Christian tradition, and why. She concludes that the distortion and erasure of the female is the result of ancient misogyny made divine writ, a holy misogyny that remains with us today.
About the Author
April D. DeConick is the Isla Carroll and Percy E. Turner Professor of Biblical Studies in the Department of Religious Studies at Rice University (Houston, Texas). She specializes in early Christian history and theology, noncanonical Gospels, and gnostic and mystical traditions. Her books include Seek to See Him: Ascent and Vision Mysticism in the Gospel of Thomas (1996); Voices of the Mystics: Early Christian Discourse in the Gospels of John and Thomas and Other Ancient Christian Literature (2001); Recovering the Original Gospel of Thomas: A History of the Gospel and Its Growth (T & T Clark, 2005); and The Original Gospel of Thomas in Translation, with Commentary and New English Translation of the Complete Gospel (T & T Clark, 2006) and The Thirteenth Apostle: what the Gospel of Judas really says (Continuum, 2007). She has also edited the collection of papers, Paradise Now: Essays on Early Jewish and Christian Mysticism (2006).
Praise For Holy Misogyny: Why the Sex and Gender Conflicts in the Early Church Still Matter…
"Though one may argue with her historical reconstructions at many points, and sometimes with her method, the case is otherwise well made."- William Loader, Murdoch University, The Catholic Biblical Quarterly
or
Not Currently Available for Direct Purchase