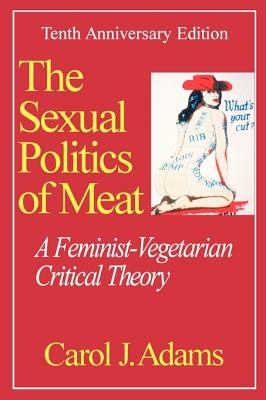 Sexual Politics of Meat (Paperback)
Continuum, 9780826411846, 276pp.
Publication Date: November 1, 1999
* Individual store prices may vary.
Description
First published in 1990, The Sexual Politics of Meat" is a landmark text in the ongoing debates about animal rights. In the two decades since, the book has inspired controversy and heated debate.T" he Sexual Politics of Meat "argues that what, or more precisely who, we eat is determined by the patriarchal politics of our culture, and that the meanings attached to meat eating are often clustered around virility. We live in a world in which men still have considerable power over women, both in public and in private. Carol Adams argues that gender politics is inextricably related to how we view animals, especially animals who are consumed. Further, she argues that vegetarianism and fighting for animal rights fit perfectly alongside working to improve the lives of disenfranchised and suffering people, under the wide umbrella of compassionate activism.This 20th Anniversary Edition includes a new preface by the author, discussing new developments in the field and answering some of her critics. It also features an introduction by Nellie McKay. If you have never read The Sexual Politics of Meat, "prepare to have your worldview challenged and possibly turned upside down like tens of thousands of readers before you.Praise for The Sexual Politics of Meat" "A bible of the vegan community." --The New York Times""Her argument is rational and persuasive....New ground - whole acres of it - is broken by Adams." --Washington Post Book World""Read this powerful new book and you may well become a vegetarian." --Ms. Magazine""Both thoughtful and thought-provoking." --Kirkus Reviews"Likely to both inspire and enrage readers across the political spectrum." --Library Journal""Carol J. Adams's original, provocative book makes a major contribution to the debate on animal rights." --Publisher's Weekly"CAROL J. ADAMS is the author of The Pornography of Meat "(Continuum, 2004), and co-author of Beyond Animal Rights "(Continuum, 2000), and The Bedside, Bathtub, and Armchair Companion to Jane Austen "(Continuum, 2008). She has toured as a speaker throughout the United States, Canada, and Europe. More information can be found at her website: http: //www.triroc.com/caroladams
About the Author
Carol J. Adams is an activist and author of "The Pornography of Meat," "Living Among Meat Eaters," and many other books challenging a sexist, meat-eating world. She is a sought-after speaker throughout North America and Europe, and has been invited to more than 100 campuses to show "The Sexual Politics of Meat Slide Show," which is always being updated to include contemporary cultural representations.
or
Not Currently Available for Direct Purchase