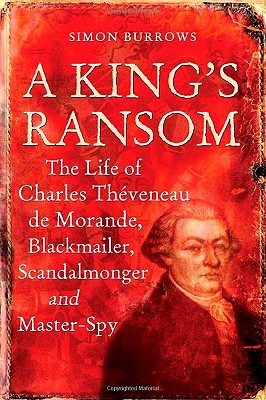 A King's Ransom (Hardcover)
The Life of Charles Théveneau de Morande, Blackmailer, Scandalmonger & Master-Spy
Continuum, 9780826419897, 288pp.
Publication Date: May 5, 2010
* Individual store prices may vary.
Description
If Charles Th veneau de Morande was a character in a novel, he would be considered the ultimate anti-hero. Morande's historical significance far transcends his success as a blackmailer and scandalous pamphleteer. Having extorted the French monarchy he turned coat and during the War of American Independence and throughout the 1780s was France's leading political spy in London. In addition, he was a highly successful police agent among his fellow exiles and one of the most influential journalists of his time. His enemies or victims - who invariably suffered intense damage to their reputations - included many of the most colourful figures of his day. Nevertheless, Morande survived the wrath of both Louis XV and the revolution, outlived his enemies, and died peacefully in his bed.
Morande's life story is a tale of intrigue, blackmail, espionage, duels, kidnap, murder, politics, conspiracy and crime. At the same time, it offers a chance to examine some of the most important issues of French history and revolution.
About the Author
Simon Burrows is Professor of Modern European History at the University of Leeds. His many publications include "A King's Ransom "(Continuum 2010), and The Chevalier d'Eon and His Worlds edited with Jonathan Conlin, Russell Goulbourne and Valerie Mainz (Continuum 2010).
or
Not Currently Available for Direct Purchase