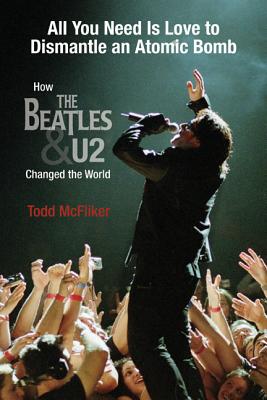 All You Need Is Love to Dismantle an Atomic Bomb (Paperback)
How the Beatles & U2 Changed the World
Continuum, 9780826427762, 184pp.
Publication Date: April 1, 2007
* Individual store prices may vary.
Description
True, it was before my time, but the Beatles were the sociological and cultural phenomenon of the twentieth-century. In the 1960s, the musical messiahs from Liverpool pioneered a new fulfi lling era of music based on the simple concepts of love, peace and enlightenment. Seventy-three million spectators and 43% of all television sets in the country witnessed the Beatles' first appearance in the United States. The crime rate amongst American teenagers dropped to virtually zero that evening. The most popular, repeatedly covered, infl uential and enduring rock group of all time made rock and roll an artistic medium with recognizable images and idols. In the mid-80s...U2 was reaching global fame with The Joshua Tree, and "With Or Without You" was the hottest thing on MTV; you remember, back when they actually showed music videos. A few years later, "Desire" was aired just prior to Rattle And Hum's release in theatres. I was immediately hooked. Listening to the record's introductory song, "Helter Skelter," I even got a history lesson on Charles Manson and the Beatles. In the early 90s, I was in high school when Achtung Baby and Zoo TV conquered the planet. The singles, "The Fly" and "Mysterious Ways" immediately won me over. Their Zoo TV tour in 1991 was a multimedia extravaganza like I had never before experienced... Although there may be a general feeling that the careers of the Beatles and U2 parallel one another, especially the work and political interests of John Lennon and Bono, they have yet to be compared at length. Bono himself has admitted the deep connection he has always had to Lennon and the music of the Beatles, and it seems fair to say that Bono has drawn inspiration from both. Since the 1980s U2 has captured the attention of thoughtful rock fans in a similar, if less frenzied, way as the Beatles did. To compare the two, Todd McFliker discusses their monumental concerts, their many tribute bands, films and documentaries, and draws a direct comparison of the Beatles' Sgt. Pepper's with U2's Achtung Baby.
About the Author
Todd McFliker has a M.S. in communications from Lynn University, Boca Raton, FL. He is a contributor as writer and photographer to Rag magazine, South Florida's music magazine.
or
Not Currently Available for Direct Purchase