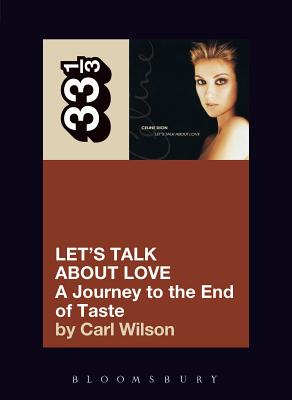 Celine Dion's Let's Talk about Love (Paperback)
A Journey to the End of Taste (33 1/3 #52)
Continuum, 9780826427885, 164pp.
Publication Date: November 1, 2007
Other Editions of This Title:
MP3 CD (7/26/2016)
* Individual store prices may vary.
Description
Non-fans regard C line Dion as ersatz and plastic, yet to those who love her, no one could be more real, with her impoverished childhood, her (creepy) manager-husband's struggle with cancer, her knack for howling out raw emotion. There's nothing cool about C line Dion, and nothing clever. That's part of her appeal as an object of love or hatred - with most critics and committed music fans taking pleasure (or at least geeky solace) in their lofty contempt. This book documents Carl Wilson's brave and unprecedented year-long quest to find his inner C line Dion fan, and explores how we define ourselves in the light of what we call good and bad, what we love and what we hate.
About the Author
Carl Wilson is a writer and editor at The Globe and Mail, Canada's national newspaper, and his work also has appeared in Pitchfork, Slate, The New York Times, Blender and many other publications. His pieces were selected for two of Da Capo Books' annual Best Music Writing collections, in 2002 and 2007, by guest editors Jonathan Lethem and Robert Christgau. He runs the popular music blog Zoilus.com and is part of the team behind Trampoline Hall, Toronto's acclaimed nightclub series of lectures by non-experts, which toured America in 2002.