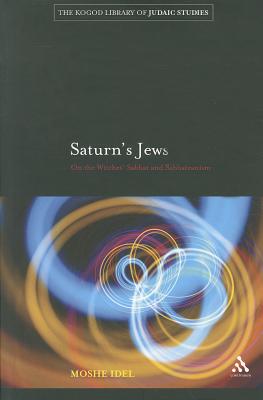 Saturn's Jews (Kogod Library of Judaic Studies #10) (Paperback)
Continnuum-3PL, 9780826444530, 198pp.
Publication Date: September 29, 2011
Other Editions of This Title:
Hardcover (12/1/2011)
* Individual store prices may vary.
Description
This book explores the phenomenon of Saturnism, namely the belief that the planet Saturn, the seventh known planet in ancient astrology, was appointed upon the Jews, who celebrated the Sabbath, the seventh day of the Jewish week.
Moshe Idel details how the anonymous, late 14th century Sefer Ha-Peliyah was to have disturbing consequences in the Jewish world three centuries later, interweaving luminaries with the cultural, historical, religious, and philosophical concepts of their day, and demonstrating how cultural agents were inadvertently instrumental in the mid-17th-century mass-movement Sabbateanism that led to the conviction that Sabbatai Tzevi was the Messiah.
Exploring how the tragic misperception of the Jewish Sabbath by the non-Jewish world led to a linkage of Jews with sorcery in 14th and 15th-century Europe, associating their holy day with the witches' 'Sabbat' gathering, Idel brings this wide-ranging study into the present day with an analysis of 20th-century scholarship and thought influenced by Saturnism, particularly lingering themes related to melancholy in the works of Gershom Scholem and Walter Benjamin.
About the Author
Moshe Idel is Max Cooper Professor of Jewish Thought at the Hebrew University of Jerusalem, Israel, and Senior Research Fellow at the Shalom Hartman Institute, Israel. He is an expert in Kabbalah and has been a recipient of the prestigious Israel Prize for excellence in the field of Jewish Philosophy.