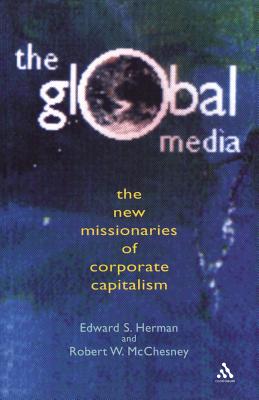 Global Media
The New Missionaries of Global Capitalism
Paperback

* Individual store prices may vary.
Description
The Global Media describes in detail the recent rapid growth and crossborder activities and linkages of an industry largely composed of international conglomerates. It assesses the significance of the ongoing deregulation and convergence of global media and telecommunications systems and the rise of the internet. The authors argue that the most important features of this globalization process are the implantation, consolidation and concentration of advertisement-based commercial media and the parallel weakening of the 'public sphere'. It is contended that the United States provides the evolutionary model toward which the global media system is moving, and the history and characteristics of the U.S. System are described, along with developments in seven other countries around the world. Finally, the authors evaluate the defenses of the ongoing globalization process and discuss the forms of local, national and global resistance that have emerged.
Written by two of the leading media scholars in America, this book provides the most up-to-date, concise survey of the global media industry available and has become essential reading for all those interested in media studies.
Continuum, 9780826458193, 320pp.
Publication Date: August 27, 2001
About the Author
Edward S. Herman is Professor Emeritus of Finance, Wharton School, University of Pennsylvania, and author of a number of books including "Corporate Control, Corporate Power" (1981) and "Triumph of the Market: Essays in Economics, Politics and the Media" (1995). Robert W. McChesney is Associate Professor of Journalism and Mass Communication University of Wisconsin and author of "Telecommunications, Mass Media and Democracy: The Battle for the Control of US Broadcasting, 1928-1935" (1993).