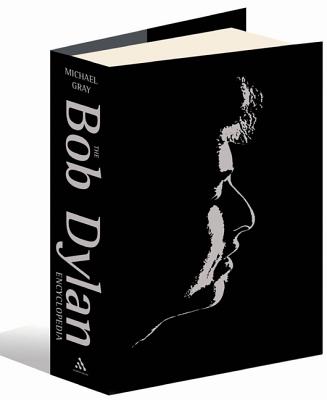 The Bob Dylan Encyclopedia (Hardcover)
Bloomsbury Academic, 9780826469335, 800pp.
Publication Date: September 21, 2006
Other Editions of This Title:
Paperback (4/15/2008)
* Individual store prices may vary.
Description
"The Bob Dylan Encyclopedia" is one of the most wide-ranging, informed, entertaining, provocative, and compulsively readable books ever written about popular music. It's the culmination of over thirty years of dedicated research and scholarship by Michael Gray.
Inside these pages, you'll find a world of ideas, facts, and opinions. It's a world in which Baudelaire flows on from the Basement Tapes and A.S. Byatt looks out at the Byrds; in which Far from the Madding Crowd follows Ezekiel and Bob Geldof introduces Jean Genet; and in which Hank and William Carlos Williams stand side by side while J.R.R. Tolkien trails the Titanic. Most of all, of course, it's a world in which everyone and everything interconnects, in endlessly fascinating ways, with one of our greatest living artists: Bob Dylan.
"Michael Gray... probably Dylan's single most assiduous critic." -New York Review of Books
"Fans of Bob Dylan have a multitude of choices when it comes to biographies and retrospectives, but author Michael Gray outdistances them all with this voluminous collection of all things Dylan. ... Insightful and entertaining, Gray's tome will broaden appreciation of the artist, his influences and his legacy." -"Publishers Weekly" (starred review)
..".has all you need to know, and more" -Richard Corliss, "Time"
"This is no mere catalog of facts, but a work of oceanic immersion. It has wit, opinion, style, and asks to be read, not just consulted." -"Village Voice"
"Deeply impressive...destined to be the most important Dylan book, bar none."-Gerry Smith, "The Dylan Daily"
"Utterly idiosyncratic." -Janet Maslin, "New York Times"
"Amazingly well-researched and surprisingly readable work." -"Library Journal" (starred review)
"Door-stopping detail." -Toronto Star
"Magnificent...won't just astonish readers with its detail about Dylan's work...contains so many insights and refutes so many myths about the rock 'n' roll era in general that it's invaluable as both a reference guide and a personality study." -"Nashville City Paper"
"Comprehensive and up-to-date." -"Slate.
About the Author
MICHAEL GRAY is a distinguished critic, writer &broadcaster. He graduated in History &English Literature at York University, England, in the 1960s, where he studied under the controversial, brilliant critic Professor F. R. Leavis, and where as a student journalist he interviewed, among others, the eminent British historian A. J. P. Taylor and the legendary American guitarist Jimi Hendrix. His pioneering study of Bob Dylan's work, Song &Dance Man, first published in the 1970s in Britain, America and Japan, was the first full-length critical study of this crucial 20th Century cultural figure. It is now recognised as a classic in its field. A selection of pieces on Dylan, All Across The Telegraph: A Bob Dylan Handbook, published in 1987, was co-edited by Gray and included work by several distinguished academics in the fields of English &American Literature and Music. In 1996, Michael Gray co-authored The Elvis Atlas: A Journey Through Elvis Presley's America, published in hardback in New York by Henry Holt. The massive Song &Dance Man III: The Art of Bob Dylan was published by Continuum in March 2000. A special reprint appeared in the US in April 2001, when Gray delivered talks at a number of US universities; a fourth reprint was published in New York and London in 2002 and a fifth in 2004. Michael Gray is recognised as a world authority on the work of Bob Dylan and is an expert on rock'n'roll history and the blues, with a special interest in pre-war blues. Please visit his blog at http: //bobdylanencyclopedia.blogspot.com.
or
Not Currently Available for Direct Purchase