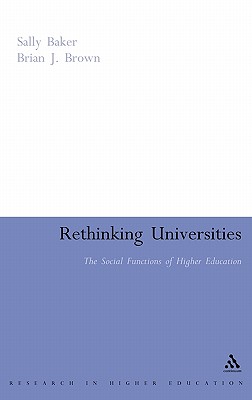 Rethinking Universities (Hardcover)
The Social Functions of Higher Education
Continuum, 9780826494191, 182pp.
Publication Date: November 14, 2007
* Individual store prices may vary.
Description
Most people who work and study in universities will be aware that they are changing. Yet few have so far grasped the extent of this change or have attempted to put it in a coherent intellectual framework. This volume provides new ways to understand how the university workforce in developed nations is being encouraged to change itself, and how the social role of these institutions has shifted from places of higher learning toward being agents for social change and the promotion of human welfare. Moreover the demands that are being placed on institutions and the kinds of graduates they are required to produce has changed too, with the emphasis on a new brand of vocationalism and a reinvigorated focus on 'skills' and 'employability'. This volume provides a theoretically informed, philosophically sophisticated account of what universities in developed nations are being encouraged to do, and the impact this has on their staff, students and the societies of which they are a part.
About the Author
Sally Baker is Researcher in the School of Social Sciences at University of Wales, Bangor, UK. Brian J. Brown is Reader in the Faculty of Health and Life Sciences at the De Montfort University, UK.