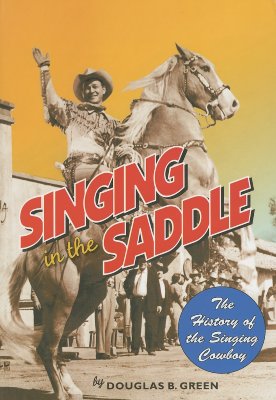 Singing in the Saddle
The History of the Singing Cowboy
Paperback

* Individual store prices may vary.
Other Editions of This Title:
Hardcover (9/15/2002)
Description
As the United States expanded west in the 1800s, and cattle became big business, the figure of the young brash cattleman who rode with the herds quickly emerged as a cultural icon. Victorian Americans went crazy for cowboys, snapping up dime-store novels and sheet music, and turning out in droves for Buffalo Bill Cody's Wild West Show. It was only a matter of time before someone brought together these three facets--entertainer, singer, and cowboy. And when Carl T. Sprague recorded the first hit cowboy record (When the Work's All Done This Fall) in 1925, the singing cowboy as we know him was born. A singing cowboy himself, Douglas B. Green (also known as Ranger Doug from the Grammy Award-winning group Riders In The Sky) is uniquely suited to write the story of the singing cowboy. He has been collecting information and interviews on western music, films, and performers for nearly thirty years. In this volume, he traces this history from the early days of vaudeville and radio, through the heyday of movie westerns before World War II, to the current revival. He provides rich and careful analysis of the studio system that made men such as Gene Autry and Roy Rogers famous, and he documents the role that country music and regional television stations played in carrying on the singing cowboy tradition after World War II. This book, lavishly illustrated with over 140 photos, is a wealth of information that comes out of decades of research. Green has unearthed never-before-published photos and rare movie posters--including one from an all-Black western, Harlem on the Prairie (1938). Through his close friendships with other singing cowboys and their families, Green is able to provide rare insights into the ways that some like Autry became stars and others like Raoul Walsh (who lost his eye in a shooting accident and later became a famous director) did not. Green also traces the history of cowboy music, from popular songs such as Sweet Betsy from Pike to the instantly recognizable harmonies of the Sons of the Pioneers. Green even speculates about just when the famous yodel became a ubiquitous part of the singing cowboy's repertoire. More important, Green reveals how the imagery of the singing cowboy has become such a potent force that even now country musicians don cowboy hats so as to symbolically take part in the legend. Nowhere has the recorded history of the singing cowboy and the film history been collected in one volume, and this book is sure to become the resource for students of the style. Co-published with the Country Music Foundation Press
Vanderbilt University Press, 9780826515063, 392pp.
Publication Date: October 1, 2005