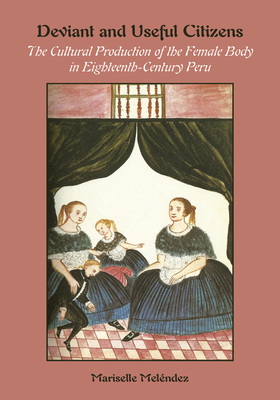 Deviant and Useful Citizens
The Cultural Production of the Female Body in Eighteenth-Century Peru
Hardcover

* Individual store prices may vary.
Other Editions of This Title:
Paperback (2/15/2021)
Description
Deviant and Useful Citizens explores the conditions of women and perceptions of the female body in the eighteenth century throughout the Viceroyalty of Peru, which until 1776 comprised modern-day Argentina, Bolivia, Chile, Paraguay, Peru, and Uruguay. Author Mariselle Mel ndez introduces the reader to a female rebel, Micaela Bastidas, whose brutal punishment became a particularly harsh example of state response to women who challenged the system. She explores the cultural representation of women depicted as economically productive and vital to the health of the culture at large. The role of women in religious orders provides still another window into the vital need to sustain the image of women as loyal and devout--and to deal with women who refused to comply. The book focuses on the different ways male authorities, as well as female subjects, conceived the female body as deeply connected to notions of what constituted a useful or deviant citizen within the Viceroyalty. Using eighteenth-century legal documents, illustrated chronicles, religious texts, and newspapers, Mel ndez explores in depth the representation of the female body in periods of political, economic, and religious transformation to determine how it was conceived within certain contexts. Deviant and Useful Citizens presents a highly complex society that relied on representations of utility and productivity to understand the female body, as it reveals the surprisingly large stake that colonial authorities had in defining the status of women during a crucial time in South American history.
Vanderbilt University Press, 9780826517685, 248pp.
Publication Date: August 29, 2011