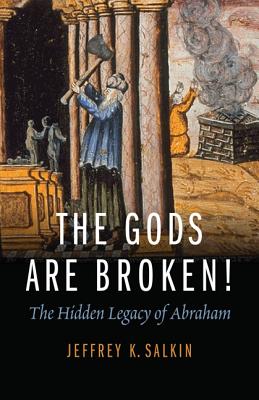 The Gods Are Broken! (Paperback)
The Hidden Legacy of Abraham
The Jewish Publication Society, 9780827609310, 176pp.
Publication Date: April 1, 2013
* Individual store prices may vary.
Description
The story of Abraham smashing his father's idols might be the most important Jewish story ever told and the key to how Jews define themselves. In a work at once deeply erudite and wonderfully accessible, Rabbi Jeffrey K. Salkin conducts readers through the life and legacy of this powerful story and explains how it has shaped Jewish consciousness.
Offering a radical view of Jewish existence, The Gods Are Broken! views the story of the young Abraham as the "primal trauma" of Jewish history, one critical to the development of a certain Jewish comfort with rebelliousness and one that, happening in every generation, has helped Jews develop a unique identity. Salkin shows how the story continues to reverberate through the ages, even in its connection to the phenomenon of anti-Semitism.
Salkin's  work—combining biblical texts, archaeology, rabbinic insights, Hasidic texts (some never before translated), philosophy, history, poetry, contemporary Jewish thought, sociology, and popular culture—is nothing less than a journey through two thousand years of Jewish life and intellectual endeavor.
About the Author
Rabbi Jeffrey K. Salkin is the author of numerous books, including Righteous Gentiles in the Hebrew Bible: Ancient Role Models for Sacred Relationships and Putting God on the Guest List, winner of the 1993 Benjamin Franklin Award for the best religion book published in the United States.
Praise For The Gods Are Broken!: The Hidden Legacy of Abraham…
"Jeffrey Salkin takes us on a magical journey through Jewish history and texts, showing us how a simple, ancient postbiblical tale is essential for our understanding of the totality of the Jewish experience. It is full of insights that will challenge how we as readers view modern society and the idolatries that are inherent in it."—Norman J. Cohen, rabbi and professor of Midrash at Hebrew Union College–Jewish Institute of Religion, New York, and author of Masking and Unmasking Ourselves
— Norman J. Cohen
"Mining the vast troves of Jewish legendry and midrashim, Salkin expands and deepens knowledge and understanding of the biblical Abram."—Ray Olson, Booklist
— Ray Olson
"Smoothly weaving together contemporary scholarship, midrashic elaborations of scripture, and meditation on the key symbols that evoke his central issue, Rabbi Salkin provides a map of Judaic meaning. By comparing and contrasting Abraham's breaking of his father's idols with the breaking of the first set of tablets by Moses, he opens up a investigative mode that has far-reaching consequences for the world Jewish community, both present and future."—Phillip K. Jason, Jewish Book Council
— Phillip K. Jason
"Salkin's work—combining biblical texts, archaeology, rabbinic insights, Hasidic texts (some never before translated), philosophy, history, poetry, contemporary Jewish thought, sociology, and popular culture—is nothing less than a journey through two thousand years of Jewish life and intellectual endeavor."—Dov Peretz Elkins, Jewish Media Review
— Dov Peretz Elkins
"The text is filled with quotations from throughout Jewish history; Talmud and Midrash, medieval sages and modern scholars have all had important things to say about this small vignette. Salkin has skillfully woven them into a useful and comprehensible tapestry."—Fred Issac, Association of Jewish Libraries Review
— Fred Issac