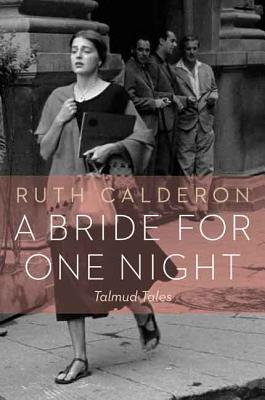 A Bride for One Night
Talmud Tales
Paperback

* Individual store prices may vary.
Description
Browse discussion questions
Ruth Calderon has recently electrified the Jewish world with her teachings of talmudic texts. In this volume, her first to appear in English, she offers a fascinating window into some of the liveliest and most colorful stories in the Talmud. Calderon rewrites talmudic tales as richly imagined fictions, drawing us into the lives of such characters as the woman who risks her life for a sister suspected of adultery; a humble schoolteacher who rescues his village from drought; and a wife who dresses as a prostitute to seduce her pious husband in their garden. Breathing new life into an ancient text, A Bride for One Night offers a surprising and provocative read, both for anyone already intimate with the Talmud or for anyone interested in one of the most influential works of Jewish literature.
Praise For A Bride for One Night: Talmud Tales…
"A Bride for One Night highlights Ruth Calderon's remarkable skill in bridging the cultural gap between the rabbis and contemporary readers and the significant contribution she has made to demonstrating the relevance of rabbinic legends in the 21st century."—David C. Jacobson, Jewish Review of Books
— David C. Jacobson

"Dr. Calderon's A Bride for One Night takes seventeen short sugyot (sections) of Talmudic texts, translates them and comments on them from the standpoint of a teacher and scholar.  What makes this book so useful to a beginner, is that Calderon then writes an imaginative retelling of the text, a reflection that gets at the subtext of the tale and the issues that are driving it. One could not ask for a better introduction to Talmud study."—Beth Kissileff, Wisdom Daily
— Beth Kissileff

"A welcome step in encouraging Jews of all stripes to engage with texts that hold values we wish to live by, and to find those values there."—Beth Kissileff, Tablet Magazine
— Beth Kissileff

"Calderon has indeed realized her goal to teach and to promulgate the creative cultural traditions of the Talmud."—CJ magazine
— CJ magazine

"Calderon's interpretation of classic Talmudic literature is like a breath of fresh spring air clearing out the cobwebs and is sure to be enjoyed by scholars and anyone interested in learning more about the rich Jewish heritage."—Sandy Amazeen, Monsters & Critics
— Sandy Amazeen

"Heartfelt, philosophical, imaginative, and religious, these stories offer new ways to read text."—Sharon Elswit, Jewish Book Council
— Sharon Elswit

"A Bride for One Night is a book that lovers of Talmud must buy."—Jay Michaelson, Jewish Daily Forward
— Jay Michaelson
The Jewish Publication Society, 9780827612099, 184pp.
Publication Date: March 1, 2014
About the Author
Ruth Calderon has a PhD in Talmud from Hebrew University and was elected to the Israeli Knesset in January 2013. She became a national celebrity when she taught a page of Talmud in the Israeli parliament, arguing that the text was the heritage of the entire Jewish people. She is founder and former director of Elul Beit Midrash in Jerusalem and founder and chair of Alma: Home for Hebrew Culture in Tel Aviv. 
Ilana Kurshan is the books editor of Lilith magazine. She is the author of Why Is This Night Different from All Other Nights? as well as several articles about Talmud, literature, and Jewish life.