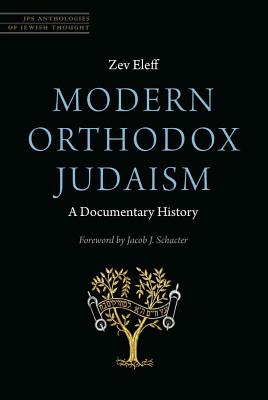 Modern Orthodox Judaism (Paperback)
A Documentary History (JPS Anthologies of Jewish Thought)
The Jewish Publication Society, 9780827612570, 570pp.
Publication Date: July 1, 2016
* Individual store prices may vary.
Description
Modern Orthodox Judaism offers an extensive selection of primary texts documenting the Orthodox encounter with American Judaism that led to the emergence of the Modern Orthodox movement. Many texts in this volume are drawn from episodes of conflict that helped form Modern Orthodox Judaism. These include the traditionalists' response to the early expressions of Reform Judaism, as well as incidents that helped define the widening differences between Orthodox and Conservative Judaism in the early twentieth century. Other texts explore the internal struggles to maintain order and balance once Orthodox Judaism had separated itself from other religious movements.
 
Zev Eleff combines published documents with seldom-seen archival sources in tracing Modern Orthodoxy as it developed into a structured movement, established its own institutions, and encountered critical events and issues—some that helped shape the movement and others that caused tension within it. A general introduction explains the rise of the movement and puts the texts in historical context. Brief introductions to each section guide readers through the documents of this new, dynamic Jewish expression.
              
About the Author
Zev Eleff 
is the chief academic officer of the Hebrew Theological College, Chicago. He is the author of five books, including 
Living from Convention to Convention: A History of the NCSY, 1954–1980, 
and editor of 
Mentor of Generations: Reflections on Rabbi Joseph B. Soloveitchik. 
He has also authored more than thirty scholarly articles. 
Jacob J. Schacter 
is University Professor of Jewish History and Jewish Thought at Yeshiva University, New York.
Praise For Modern Orthodox Judaism: A Documentary History (JPS Anthologies of Jewish Thought)…
"With the consistent integration of several points of view regarding many of the issues addressed, Modern Orthodox Judaism's readers are able to appreciate the complexity of these issues and the earnestness of purpose of those grappling with them."—Yaakov Bieler, Jewish Book Council
— Yaakov Bieler
"Modern Orthodox Judaism stands an as an exemplary book and should be widely employed and consulted by scholars and students of American Judaism and American religion."—David Ellenson, American Jewish History
— David Ellenson
"An outstanding contribution to the study of our community."—Leonard Matanky, Jewish Action
— Leonard Matanky
"Modern Orthodox Judaism incorporates and annotates samplings of many of the most significant writings from the quills, pens, typewriters, word processors, computers, and ipads of the movers and shakers who articulated and shaped an ever-changing modern Orthodoxy, in each generation and into the future."—Aaron I. Reichel, Review of Rabbinic Judaism
— Aaron I. Reichel
"Eleff has provided a useful compendium for those interested in American Orthodoxy."—Samuel Heilman, American Jewish Archives Journal
— Samuel Heilman
"According to demographic projections, within two generations the majority of American Jews will be Orthodox, for the first time in nearly 150 years. How large a part of that community will be "modern"? And in what sense? In charting Modern Orthodoxy's past and present, Eleff has given us tools that may help us foresee its future."—Daniel Ross Goodman, Jewish Review of Books
— Daniel Ross Goodman
"This valuable documentary history fills a real need for anyone interested in both the social and intellectual aspects of the Jewish religious movement known by many as Modern Orthodox Judaism. The volume shows sensitivity to the history of the movement and the dynamics of its change over time. It highlights public aspects of the movement as it responded to and participated in such epochal happenings as the Holocaust, the rise of Zionism, and the establishment of the State of Israel while not neglecting more internal questions of religious doctrine and practice such as the Jewish family and the role of feminism in traditionalist Judaism."—David B. Starr, Religious Studies Review
— David B. Starr
"This is an original volume with enduring value. . . . Even in fifty to one hundred years, anyone studying Modern Orthodoxy will want to have access to the sources reproduced in this work."—Adam S. Ferziger, professor at Bar-Ilan University and author of Beyond Sectarianism: The Realignment of American Orthodox Judaism 
 
— Adam S. Ferziger
"A pathbreaking documentary history of Modern Orthodoxy in America. There is nothing like it. The documents are well chosen and many will be new—even to scholars."—Jonathan D. Sarna, Joseph H. and Belle R. Braun Professor of American Jewish History at Brandeis University 
— Jonathan D. Sarna
"Dr. Eleff's volume enables readers to grapple with the complex issues of identity and ideology, religious practice and social behavior, rootedness in tradition and openness to new ways of thinking and acting that define Modern Orthodoxy."—Jacob J. Schacter, University Professor of Jewish History and Jewish Thought at Yeshiva University

— Jacob J. Schacter