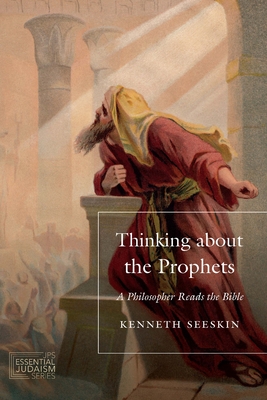 Thinking about the Prophets
A Philosopher Reads the Bible (JPS Essential Judaism)
Paperback

* Individual store prices may vary.
Description
Rethinking the great literary prophets whose ministry ran from the eighth to the sixth centuries BCE—Amos, Hosea, First Isaiah, Jeremiah, Ezekiel, Second Isaiah, and Job—Thinking about the Prophets examines their often-shocking teachings in light of their times, their influence on later Western and Jewish thinkers, and their enduring lessons for all of us. As a noted scholar of Jewish philosophy, Kenneth Seeskin teases out philosophical, ethical, and theological questions in the writings, such as the nature of moral reasoning, the divine persona, divine providence, the suffering of the innocent, the power of repentance, and what it means to believe in a monotheistic conception of God.

Seeskin demonstrates that great ideas are not limited by time or place, but rather once put forth, take on a life of their own. Thus he interweaves the medieval and modern philosophers Maimonides, Kant, Cohen, Buber, Levinas, Heschel, and Soloveitchik, all of whom read the prophets and had important things to say as a result. We come to see the prophets perhaps in equal measure as divinely authorized whistle-blowers and profound thinkers of the human condition.

Readers of all levels will find this volume an accessible and provoking introduction to the enduring significance of biblical prophecy.
 
Praise For Thinking about the Prophets: A Philosopher Reads the Bible (JPS Essential Judaism)…
"Erudite and accessible, this insightful analysis will appeal to any reader interested in the Bible, the philosophy of religion, or simply the history and literature of the ancient world."—Publishers Weekly

"Thinking about the Prophets is a significant contribution to understanding the institution of Israelite prophecy as fundamentally an ethical project and to understanding the prophets as moral thinkers taking their rightful place in the long history of moral social thinkers in the Jewish and Western philosophical tradition."—Steven P. Kepnes, professor of world religions and of religion and Jewish studies, Colgate University
 

"Seeskin innovatively shows us that the prophets were thinkers too and that their thinking has had an indelible impact on Western understandings of God, the world, and human responsibility. Erudite and accessible as well, this work would be an excellent text in college-level courses on biblical literature or Jewish thought and in adult education settings."—Judith R. Baskin, Philip H. Knight Professor of Humanities Emerita, University of Oregon
 
The Jewish Publication Society, 9780827615052, 176pp.
Publication Date: September 1, 2020
About the Author
Kenneth Seeskin is Philip M. and Ethel Klutznick Professor of Jewish Civilization at Northwestern University. He is the author of several books, including Thinking about the Torah: A Philosopher Reads the Bible (JPS, 2016) and Searching for a Distant God: The Legacy of Maimonides.