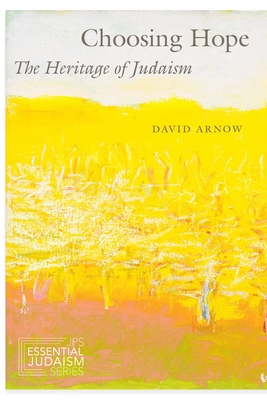 Choosing Hope
The Heritage of Judaism (JPS Essential Judaism)
Paperback

* Individual store prices may vary.
Description
Throughout our history, Jews have traditionally responded to our trials with hope, psychologist David Arnow says, because we have had ready access to Judaism's abundant reservoir of hope.
The first book to plumb the depths of this reservoir,
Choosing Hope
journeys from biblical times to our day to explore nine fundamental sources of hope in Judaism:   
Teshuvah—the method to fulfill our hope to become better human beings
Tikkun Olam—the hope that we can repair the world by working together
Abraham and Sarah—models of persisting in hope amid trials
Exodus—the archetype of redemptive hope
Covenant—the hope for a durable relationship with the One of Being
Job—the "hard-fought hope" that brings a grief-stricken man back to life
World to Come—the sustaining hope that death is not the end
Israel—high hope activists work to build a just and inclusive society for all Israelis
Jewish Humor—"hope's last weapon" in our darkest days
 
Grounded in a contemporary theology that situates the responsibility for creating a better world in human hands, with God acting through us,
Choosing Hope
can help us both affirm hope in times of trial and transmit our deepest hopes to the next generation.    
Praise For Choosing Hope: The Heritage of Judaism (JPS Essential Judaism)…
"Former clinical psychologist Arnow . . . unearths the hopefulness baked into Judaism in this stimulating [work]."—Publishers Weekly

"A powerful and impactful aid in affirming our hope and transmitting it to the next generation, suffering more than in any recent time in our history."—San Diego Jewish World

"An absorbing, insightful, thoughtful and thought-provoking study that is impressively well organized and presented, Choosing Hope: The Heritage of Judaism is an ideal, timely, and unreservedly recommended addition to synagogue, community, college, and university library Judaic Studies collections."—Midwest Book Review

"This book is a blessing, a sublime meditation on hope, an erudite feast of Jewish wisdom, and a wellspring of surprising, subversive, deeply satisfying epiphanies about the relationship between hope and all the emotions and experiences that comprise a life of meaning. Doubt, despair, anger, activism, memory, humor, love, prayer, repentance, forgiveness, the Holocaust, and the State of Israel are among the topics explored by David Arnow in his masterful illumination of the purpose and power of hope."—Letty Cottin Pogrebin, author of Deborah, Golda, and Me: Being Female and Jewish in America

"Choosing Hope is not only a profound exploration of the meaning and claim of hope but a wonderfully inspiring interpretation of the Jewish tradition. Drawing on meticulous reading of vast sources and teachings, this extraordinary book bears witness to the core idea of Jewish faith itself: as an awakening to confront our sorrows and despair with the personal and communal ongoing task of tikkun."—Moshe Halbertal, John and Golda Cohen Professor of Jewish Thought and Philosophy at the Hebrew University

"David Arnow guides us gently, engagingly, and insightfully to see hope where we never noticed it before."—Rabbi Judith Hauptman, E. Billi Ivry Professor Emerita of Talmud and Rabbinic Culture, Jewish Theological Seminary

"This vital book challenges us to think about hope in a new way—as a response to life in which we are partners in the ongoing work of imagining and creating a better world. Through its nuanced readings of biblical, classical, and mystical texts, Choosing Hope offers a deep and refreshing understanding of the centrality of hope not only in Jewish theology, prayer, and ritual; Jewish values; and even contemporary Israel but also in our own lives. So dive in—and choose hope."—Rabbi Laura Geller, Rabbi Emerita of Temple Emanuel of Beverly Hills

"This careful, thorough examination of hope in Jewish sources and thought will lift the spirits of all who read it."—Rabbi Steven Bob, author of Jonah and the Meaning of Our Lives

"Serious, well-reasoned, literate, and uplifting, Choosing Hope should be in a great many hands and hearts."—Rabbi Lawrence Kushner, scholar-in-residence, Congregation Emanu-El in San Francisco
The Jewish Publication Society, 9780827615205, 352pp.
Publication Date: March 1, 2022
About the Author
David Arnow is a scholar of the festival of Passover. He is the author of Creating Lively Passover Seders and coeditor of My People's Passover Haggadah.