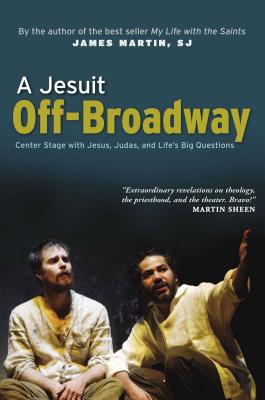 A Jesuit Off-Broadway (Hardcover)
Center Stage with Jesus, Judas, and Life's Big Questions
Loyola Press, 9780829425826, 272pp.
Publication Date: September 1, 2007
Other Editions of This Title:
Paperback (3/4/2011)
* Individual store prices may vary.
Description
Many of us have questions about the Bible: Can we believe the Bible? What was Jesus' mission? What is sin? Does hell exist? Is anyone beyond God's forgiveness? In A Jesuit Off-Brodway, James Martin, SJ, answers these questions about the Bible, and other big questions about life, as he serves as a theological advisor to the cast of The Last Days of Judas Iscariot.
Grab a front-row seat to Fr. Martin's six months with the LAByrinth Theater Company and see first-hand what it's like to share the faith with a largely secular group of people . . . and discover, along with Martin, that the sacred and the secular aren't always that far apart.
About the Author
JAMES MARTIN, SJ, is associate editor of America magazine. A prolific author, writer, and editor, his books include My Life with the Saints, A Jesuit Off-Broadway,Searching for God at Ground Zero, and In Good Company. He is the editor of Awake My Soul and Celebrating Good Liturgy. His articles have appeared in The New York Times, The Philadelphia Inquirer, The Tablet, and Commonweal. Fr. Martin resides in New York City.
Praise For A Jesuit Off-Broadway: Center Stage with Jesus, Judas, and Life's Big Questions…
"Part retreat, part seminar, part master class, James Martin's account of his role as 'theological adviser' for a play about Jesus and Judas is ultimately a spellbinding story of faith, friendship, and the deepest mysteries of the heart. Like a great drama, its impact lingers long after the curtain has fallen."
—Robert Ellsberg, author of The Saints' Guide to Happiness
 
"Father Martin's account of his experiences as an adviser to the Off-Broadway production of The Last Days of Judas Iscariot is not only riveting; it is also theologically important: no one who reads this book can come away thinking that Christianity is just a set of dry rules and regulations. Father Martin helps us see that we all play our parts in a great and complex cosmic drama about the goodness of creation, the pain of sin and brokenness, and the power of God's redemptive love."
—M. Cathleen Kaveny, John P. Murphy Foundation Professor of Law and professor of theology at the University of Notre Dame
 
"This memoir is a superb exercise of the Catholic imagination, delighting in the profound connections between sacred and secular. James Martin is both Virgil and Dante, not only guiding us through an engaging drama but also recounting how he himself was changed by the experience. And is that not the goal of all theater—and the Christian life?"
—David Gibson, author of The Coming Catholic Church

"The estimable James Martin compresses a short course in New Testament criticism along with a glimpse into Ignatian spirituality while creating a model for making friends in this fast-paced account of his experiences as a Jesuit consultant for an Off-Broadway play about Judas. In the narrative, Martin shows us how he almost inadvertently morphed from a consultant into an unofficial chaplain. This book is a vivid lesson about how the Christian life can be led when it is lived out in the midst of the real (and imagined) world."
—Lawrence S. Cunningham, author of A Brief History of Saints
 
"James Martin's storytelling at its best! A Jesuit Off-Broadway provides a fascinating glimpse into the production of a new play, beautifully blending pop culture with the gospel, and theater with theology. Martin and his colorful cast accomplish much more than five acts. In retelling the Passion story, they make it real."
—Therese J. Borchard, author of Beliefnet.com's blog Beyond Blue
or
Not Currently Available for Direct Purchase